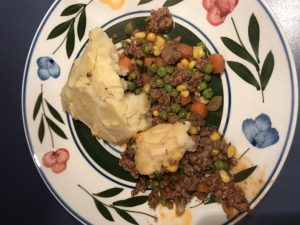 I spent a lovely Spring weekend at my friend Mary's lake home on Madeline Island recently. I love going to Mary's place – it is on Lake Superior and I always feel such a sense of calm when I am there. Maisie and I love to walk on the beach. This trip I felt an inexplicable urge to collect driftwood, so I suddenly have piles of driftwood at my home. I see driftwood crafting in my immediate future.
   
There was still ice on the lake and a nip in the air. Mary and I were in the mood for something hearty for dinner. A quick google search turned up Alton Brown's Savory Shepherd's Pie. While Alton didn't use cast iron to make his dish, I knew that it would work wonderfully in my Iron Mountain (by Griswold) cast iron chicken pan. I have always been a casserole kind of girl.
I made some modifications to Alton's original recipe – including using ground beef instead of ground lamb – to accommodate what we had on hand on the island. The recipe below reflects how we prepared the dish. It was quite delicious, but I have no doubt that Alton's is even tastier. You can find Alton Brown's original recipe here.
Continue reading