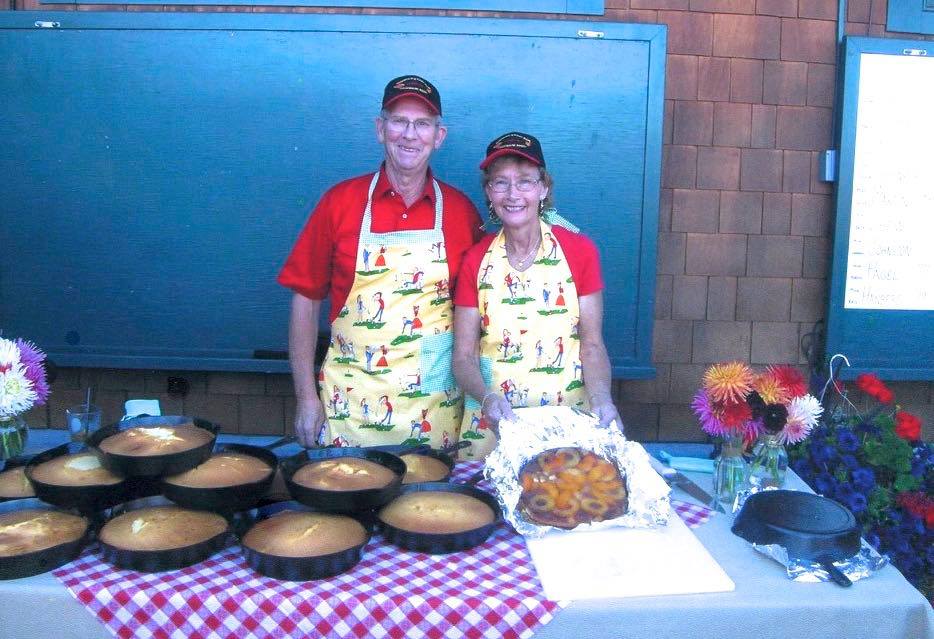 Larry and Marg O'Neil have what some believe to be the largest collection of vintage and antique cast iron cookware in the United States. I tease them by calling them the rock stars of the cast iron collecting world.
In addition to the article that Josh Miller – then Editor of Southern Cast Iron and now Senior Food Editor at Southern Living – and I wrote about their collection (here) after our first visit, Marg and Larry and their collection have been featured in "Collector's Island" and on the Lodge Cast Iron website.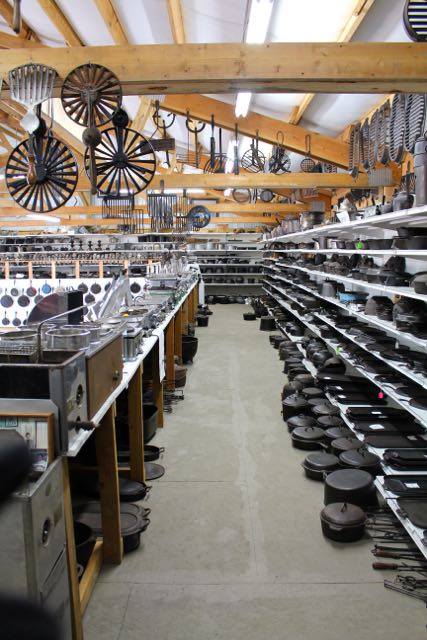 Larry started the O'Neil cast iron collecting journey some years back. His mother and grandmother had cooked in cast iron, and Larry asked his mother if he could have the skillet hanging on the kitchen wall. His mother said "no," as Larry's sister had already asked for it. Undeterred, Larry set out to get his own. He purchased a Griswold and a Wagner skillet for $8 at a thrift store. This small purchase ignited a spark in Larry that turned into a flame and then a blazing inferno.
The O'Neils estimate that they have about 15,000 pieces of vintage and antique cast iron. They keep the collection in several locations, including their private cast iron museum – a large multi-level pole barn on their farm property just outside of Tacoma, Washington.
The Abbreviated O'Neil Story
Marg and Larry met in grade school and were high school sweethearts. They were married on March 2, 1957, when Marg was 19 and Larry 21.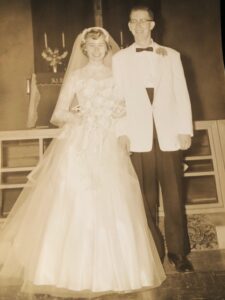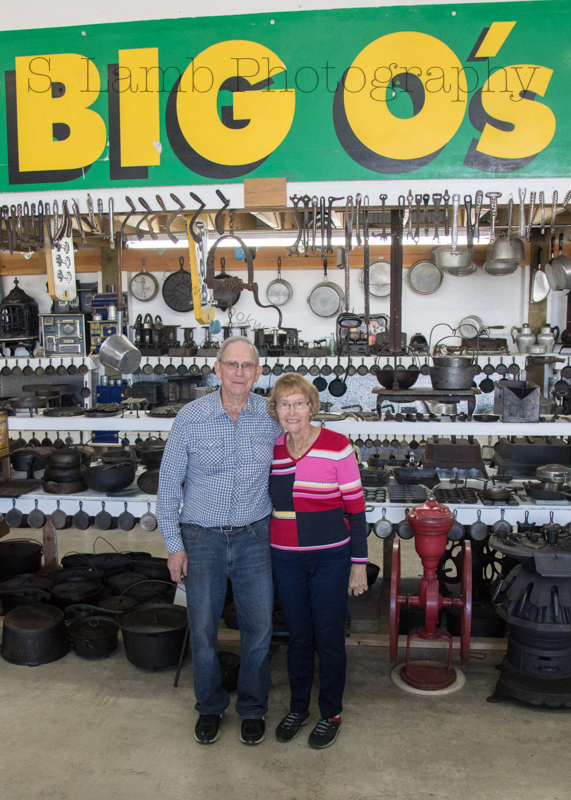 They have two adult sons – Jerry (Stephanie) and Mark (Melissa), 5 grandchildren, and 6 great-grandchildren.
Marg is opinionated and outspoken – the word "spitfire" comes to mind.1 Larry is more reserved and studied, though he is a man of action. As Larry puts it, Marg prefers that he make the major decisions in their relationship. Once the decision is made, however, Marg ensures that implementation of the decision does not fail.
Marg and Larry have always been hard workers. Early in their marriage, Larry worked as the head truck mechanic for St. Regis (now Champion) Paper Company. When Marg became restless after having children, however, she says "Larry bought me a store." Marg then ran the store while Larry worked at St. Regis.
In 1965 Larry quit St. Regis and devoted his time to their grocery store. That one store turned into a chain of 5 grocery stores and 38 years of hard work in the grocery business. As Larry told me, "we didn't know anything [about the grocery business], but we knew how to work."
As an example, Larry learned how to cut meat when they realized that one of their stores was losing money on meat cutting. He built that skill and eventually, that store became the largest wild game processor in Western Washington State. Marg recalls their young boys standing on milk crates alongside Larry and helping to cut meat, while Marg wrapped and boned.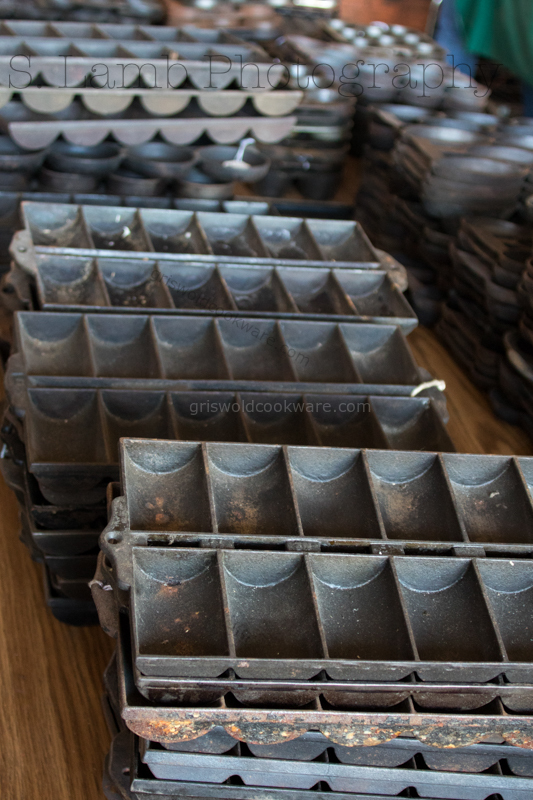 I have two stories that to me encapsulate the essence of Marg and Larry.
The first story involves some misguided young soul who threw some coins at Marg when she wouldn't sell him a beer at one of their grocery stores without proper identification. Larry stepped in, and the young man hit Larry. Larry punched the man in the face, breaking his nose. Meanwhile, Marg jumped on the back of the young man's friend and pulled his hair. Police were called. When Larry was called to testify at trial, Marg sat in the galley animatedly nodding her head "yes" or "no" when she agreed or disagreed with Larry's testimony. She was twice chastised by the judge for her head nods. If you've met Marg and Larry, you can completely envision this scenario; Marg is irrepressible.

My second favorite story is from the day I first met Marg and Larry. I tried to buy a piece of iron from them at a swap meet. Larry was very sweet and smiling as he showed me the piece and told me its history. We were settling on a price when Marg walked behind Larry, heard what he was about to sell it to me for, said "No," and kept walking. Larry apparently wasn't charging me enough.
Marg and Larry are true life partners. You rarely see one without the other. They make each other's interests their own. They stay very busy despite their retirement from the grocery business. They own properties that are leased to businesses and are also engaged in various philanthropic and community activities. They are Life Members of both Ducks Unlimited and the Eatonville & Gig Harbor Gun Club. Additionally, as Larry put it to me, they "raise a few cows and clean cast iron." Why yes…yes, they do.
The O'Neil Iron Cast Iron Collection and Museum
The O'Neil collection of vintage and antique cast iron (and cast aluminum) is on display in, on, and around their beautiful Tacoma Washington home as well as in their private cast iron museum on their farmland just outside of Tacoma. While they say it's around 15,000 pieces, I'd wager that it's far more than that.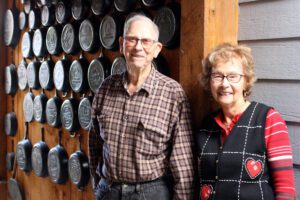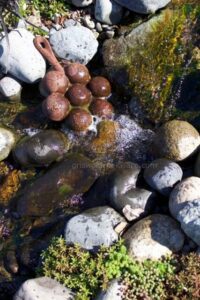 Marg originally said Larry couldn't bring the iron into the house. Then she said he had to confine it to the basement of the home. Well, it slowly crept its way upstairs and iron pieces are now weaved into the decor throughout the home – inside and out. They even have a towel stand in a bathroom that is crafted from a Griswold double burner.
As their iron collection continued to grow, they started to bring iron to their farmland. The iron soon began to fill the buildings on their farmland.
The O'Neil farm property hosts a house and several outbuildings. One of the outbuildings is a gigantic 4500 square foot multi-level pole barn called the museum. The museum is chock-full of cast iron pieces from many manufacturers.2
Larry's aim has been to learn about and collect one of each and every piece and variation of vintage and antique cast iron cookware; both those manufactured by large well-known foundries and those old pieces for which the maker is unknown. While Larry's favorite manufacturer of old iron is Griswold, he is also keenly interested in antique cast iron pieces from unknown manufacturers. He is more interested in the iron itself than in the "name" on the piece. Larry appreciates the craftsmanship in the old iron. He is intrigued by unusual pieces and looks for small differences or variations.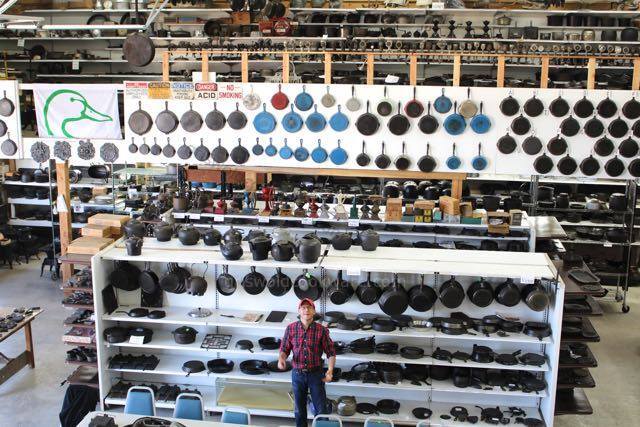 Each piece in the O'Neil collection is different from the rest. For example, the O'Neils have a number of Griswold Santa molds. While at first blush the Santa molds appear the same, on close inspection each has a difference, however slight. As Larry explained it to me, Griswold used a wood pattern for their Santa mold. As the wood pattern dried and aged, it began to crack. Those cracks account for the line seen on the bag of some of the authentic Santas. The line on the bag became longer as the wood aged.3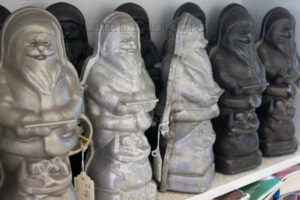 Larry and Marg learn all they can about each piece through research, hard work, and conversations with other collectors. They both agree that they have learned the most from other cast iron collectors in the two national collecting groups, the Griswold & Cast Iron Cookware Association and the Wagner and Griswold Society. They have also studied the reference books written by David C. Smith and Chuck Wafford (commonly called the "Blue" and "Red" books), as well as the Griswold Muffin Pan book written by Jon B. Haussler.
Larry also has a very large collection of cast iron paper ephemera for many different companies, including catalogs, advertising, orders, price sheets, and much more. These old papers are a great source of information. I have spent days looking through their boxes of ephemera, but haven't begun to absorb all that they have.
Some of the Special Pieces at the O'Neil Home
In addition to the many small pieces that the O'Neils display in their kitchen and dining area, iron is scattered in other areas of the home – both inside and out. The O'Neil's basement is filled with thousands of pieces of rare and unusual iron and aluminum by different manufacturers. Larry has carefully arranged them into different sections. There are three rooms piled full of stacks of iron and aluminum – on the floor and shelves, and hanging from the walls and rafters.
I made seven videos of the iron and aluminum collection contained at the O'Neil home in Tacoma, Washington. You can view them on my youtube video channel, here. In the meantime, here is a little slideshow of some of the special pieces at the O'Neil home for your viewing pleasure.
**Note – most of the photos were taken by, and are provided courtesy of, Sarah Lamb of S.Lamb Photography.
A Teeny-Tiny Bit of the Cast Iron Museum

There are at least three buildings on the O'Neil farmland that house cast iron. One building has pieces of iron that Larry is in the process of sorting and also has some iron and stoves (and more!) on display. Another building has pieces that the O'Neils are selling. The third building is the mother lode – the cast iron museum.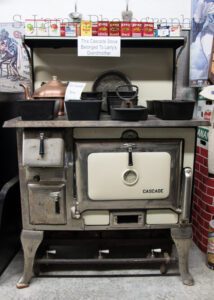 The pieces in the museum are carefully arranged and sorted. In general, different areas of the museum showcase pieces by one manufacturer, or a certain type of piece. The O'Neil collection includes pieces by many different manufacturers including Griswold, Wagner, Martin, King Stove, Atlanta Stove Works, Favorite, Favorite Piqua Ware, Lodge, Mi-Pet, Ozark, Marietta, Sperry, Filley, Charter Oak, Mt. Penn., Barstow (a favorite of Marg and Larry's), Findlay, McClary, old gate marked pieces, and more. There are "oddball" pieces from unknown makers, and many pieces from established foundries. Each piece in the museum is different from all of the others – each has a variation, however slight.
I made four videos of the O'Neil cast iron museum. It is impossible to take it all in at once; it's that overwhelming. You can see the videos on my youtube video channel, here.
Feast your eyes on just a few photos from the museum.
**Note: Most of the photos were taken by, and are provided courtesy of, Sarah Lamb of S.Lamb Photography.
I am very fortunate to have met Larry and Marg, spent time with them and shared their stories, and viewed their collection. They are one of a kind, as is their collection.
It is a point of pride for Marg that she has been placed in Facebook "jail" on more than one occasion.
Larry and Marg are glad to give tours of the museum by advance appointment. You can request an appointment by emailing Larry at loneil@aol.com
You can see photos of both authentic and reproduction Griswold Santas, as well as the "line" on the bag to which I refer, here.