There was still ice on the lake and a nip in the air at my good friend Mary's cabin on Lake Superior, and Mary and I were in the mood for something hearty for dinner. A quick google search turned up Alton Brown's Savory Shepherd's Pie. While Alton didn't use a cast iron pan to make his dish, I knew that it would work wonderfully in my Iron Mountain (by Griswold) cast iron chicken pan. I have always been a casserole kind of girl (in Minnesota, where I grew up, we called them "hot dish.")
I made some modifications to Alton's original recipe – including using ground beef instead of ground lamb – to accommodate what we had on hand on the island. It was delicious – here's how we made it!
Shepherd's Pie ala Alton Brown
Serves 8 – more or less depending on how hungry you are!
Ingredients
For the potatoes:
For the meat filling: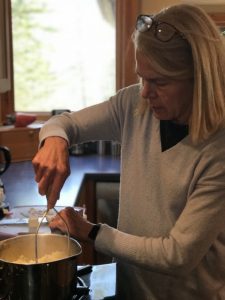 Preheat the oven to 400 degrees F.
While the potatoes are cooking, prepare the filling. Place a splash of your preferred oil (we used canola) into a cast iron Dutch oven or chicken pan (ours is about 10-1/2″ in diameter by 3″ tall). Set over medium high heat.
Once the oil shimmers, add the onion and carrots and saute just until they begin to take on color, approximately 3 to 4 minutes. Add the garlic and stir to combine.
Add the ground beef, salt and pepper and cook until browned and cooked through, approximately 3 minutes. Drain thoroughly and return to the pan.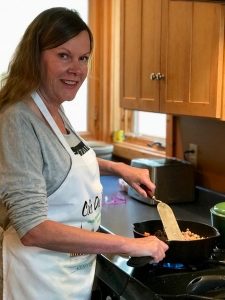 Sprinkle the meat with the flour and toss to coat, continuing to cook for another minute. Add the tomato paste, beef broth, Worcestershire, rosemary, and thyme, and stir to combine. Bring to a boil, reduce the heat to low, cover, and simmer slowly for 10 to 12 minutes or until the sauce is slightly thickened.
Add the corn and peas to the beef mixture and spread evenly in the bottom of the pan.
Top with the mashed potatoes, starting around the edges to create a seal to prevent the mixture from bubbling up. Smooth with a rubber spatula. Whisk the egg white and gently brush it on top of the potatoes.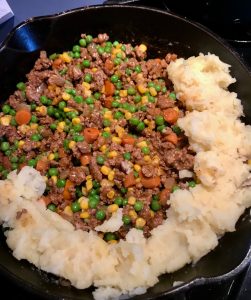 Place the uncovered pan on a parchment-lined half sheet pan on the middle rack of the oven and bake for 25 minutes or just until the potatoes begin to brown. Remove to a cooling rack for at least 15 minutes before serving.
Dig in and enjoy! Alton recommends Merlot to accompany the dish. I think any hearty red – Shiraz, Zinfandel – would be a great addition to the meal.