In 2013, I gave GC Accomplice ("Griswold Cookware Accomplice") Linda a Griswold Cast Iron Lamb Cake Mold for Christmas. Linda's last name is "Lamb," so it seemed appropriate.
Since 2013, Linda repeatedly said she was going to make a lamb cake in the mold, but she procrastinated. When we went to the Griswold & Cast Iron Cookware Association's (GCICA) annual convention in Fargo in 2015, however, Linda was motivated to try the lamb cake after talking to fellow GCICA members Brenda and Doyle. Brenda is a master cake-maker-froster, and she gave Linda tips about making cakes with Griswold cake molds.
Linda decided to give her lamb cake mold a try for a family Easter holiday meal in 2015 (note: Linda now points out that it is not the wisest course of action to make a tricky cake for the first time the very day it is to be served at a large celebration). The chest crumbled and the ears fell off.  The family did not have lamb cake for dessert. Despite best efforts, Linda's lamb did not meet the "Brenda" standard.
Not to be dissuaded, however, upon their next encounter Linda asked Brenda for insight about what went wrong with her Griswold lamb cake effort. Brenda emphasized the necessity of burying toothpicks into the batter of the ears to hold them to the lamb's head upon removal of the cake from the pan.
The next time Linda tried making a lamb cake, the ears stayed on, but the lamb's head fell off.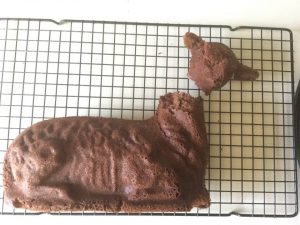 Continue reading