…Made in her Lodge Legacy Fluted Bundt Cake Pan
I've mentioned before that I enjoy following the "Black Iron Master" contest each Sunday on the Facebook page Black Iron Cooking, Antiques, and Humor. Doyle Pregler and Brenda Bernstein often enter the contest – Brenda with her beautiful cakes and Doyle with his delectable meals. Members of the page submit photos of some gorgeous and tasty thing they've cooked up in black cast iron, and the winner of the contest is determined by the number of "likes" on the post. Prizes are donated by other members.
I recently ran across a gorgeous hydrangea mahogany cake that was entered into – and won – the contest. Rose Waddell of Mount Olive, Alabama was kind enough to share her photos and instructions to make her beautiful cake. Thank you, Rose! (note: this post was written in 2018). 
Rose made her prize-winning cake in a Lodge Legacy fluted (Bundt) cake pan. The cast iron Bundt cake pans make beautiful cakes – I've also seen the cast iron bundt pans used in other creative ways, including a tasty-looking meatloaf  with mashed potatoes and gravy in the middle!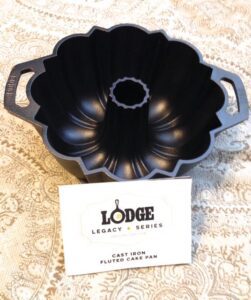 So how, you ask, did Rose make her beautiful mahogany cake? Glad you asked.
Rose Waddell's Mahogany Chiffon Hydrangea Bundt Cake
Ingredients
3/4 cup boiling water
1/2 cup cocoa
1-3/4 cup flour
1-3/4 cup sugar
1-1/2 teaspoons baking soda
1 teaspoon salt
1/2 cup vegetable oil
7 pieces unbeaten egg yolks
2 teaspoons vanilla
1 cup egg whites (7 or 8)
1/2 teaspoon cream of tartar
Directions
Preheat oven to 325 degrees.
Prepare cast iron cake pan by spraying liberally with Baker's Joy, or applying a homemade substitute. Rose creates her own "Baker's Joy" mixture by combining equal parts plain flour, oil, and Crisco and thoroughly mixing together in a bowl.

Combine boiling water and cocoa in a bowl. Let cool.
Blend flour, sugar, soda, and salt in a second bowl.
Make a well in the dry mixture and add oil, egg yolks, vanilla, and water/cocoa mixture.
Beat until smooth.
Measure egg whites and cream of tartar into a large mixing bowl and beat until very stiff peaks form.
Pour egg yolk mixture in a thin stream over the entire surface of egg whites, gently cutting and folding in with a rubber spatula until completely blended.
Pour into greased cast iron cake pan (Rose used her Lodge Legacy Fluted Cake Pan).
Bake 55 min. at 325. Increase heat and bake at 350 degrees for an additional 10-15 minutes.
Remove from oven and let sit on a cooling rack for 10 minutes. After 10 minutes, invert the cake onto a cooling rack; it should slide easily away from the iron pan.

Let the cake rest on the cooling rack until cool.
Frosting
So now, go and check out the Facebook "Black Iron Master" contest yourself, and submit your own fabulous creations!