Griswold & Cast Iron Cookware Association
Linda and I made the trek to Baton Rouge, Louisiana for the April 2018 Griswold & Cast Iron Cookware Association (GCICA) convention. This convention marks the 26th year that the association has held a convention, and the fourth that Linda and I have attended. GCICA is a fun group of vintage and antique cast iron enthusiasts. We share information, have quarterly newsletters, chapter meets, an active Facebook page and a website soon to come (it is presently down). Most fun of all is the annual convention.1
What I like most about the conventions is having the opportunity to meet with other cast iron enthusiasts and talk and learn about the old pieces. I've made wonderful friends in this cast iron community. There is always a "show and tell" where collectors bring and discuss particularly unusual or hard-to-find pieces. There also is always a large "swap meet" where attendees have the chance to see hordes of iron and snag a few pieces for themselves.
Another highlight of the convention is the auction. This year I restrained myself from making any large purchases, but in previous years I have certainly done some significant damage to my pocketbook at the auction. There are always great pieces to be had.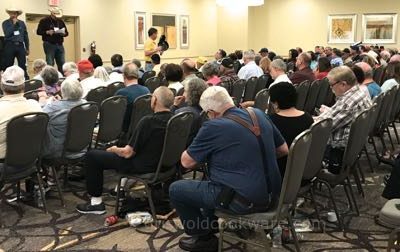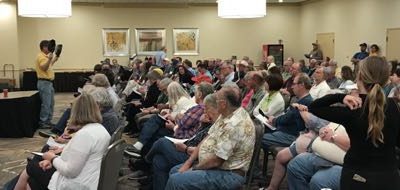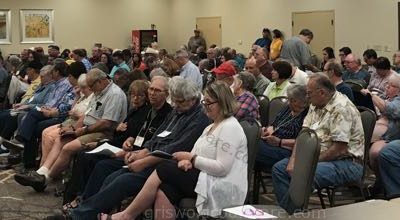 Presentation on the Lodge Manufacturing Company
Bob Kellerman, the immediate past CEO of the Lodge Manufacturing Company in South Pittsburgh Tennessee, came to the convention and regaled us with stories and information about Lodge. And, he gifted each of us in attendance with a Smokey Mountain cast iron skillet! Bob's presentation and talk were definitely one of the highlights of the convention.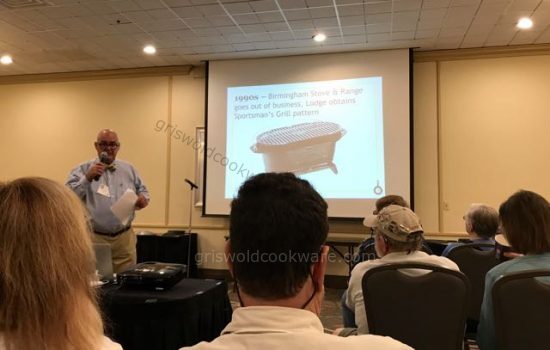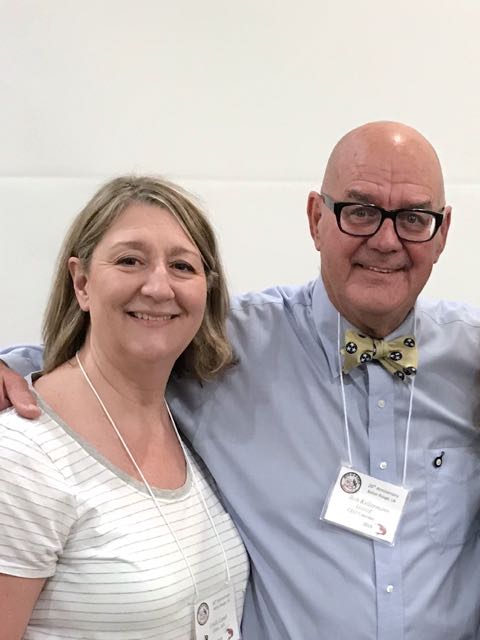 Presentation on the Joel Schiff Cast Iron Collection
Joel Schiff was an avid collector of cast iron who passed away in 2015. His cousin Jeff Schiff came to the convention and showed us a fascinating PowerPoint recap of some of Joel's huge collection. Joel's collection was massive; weighing more than 10 tons, all told. When packed, it filled more than 70 large wooden crates. You can see much more of the collection online.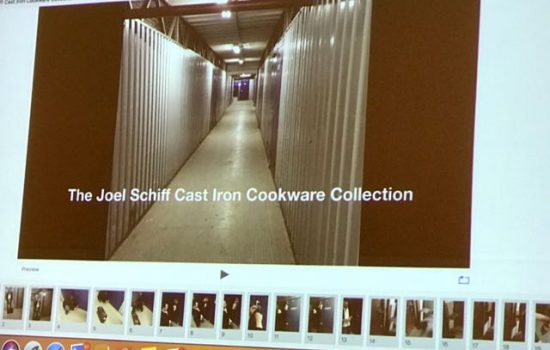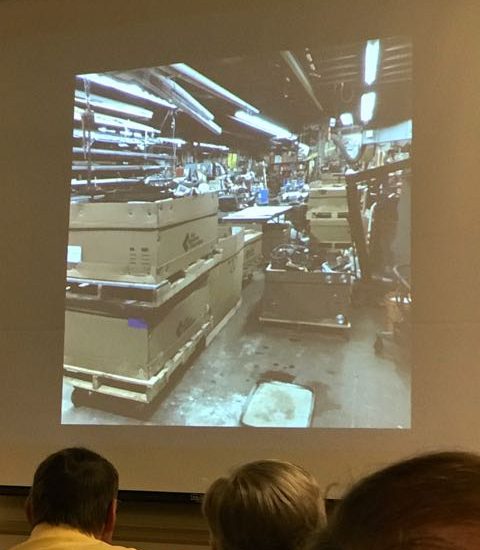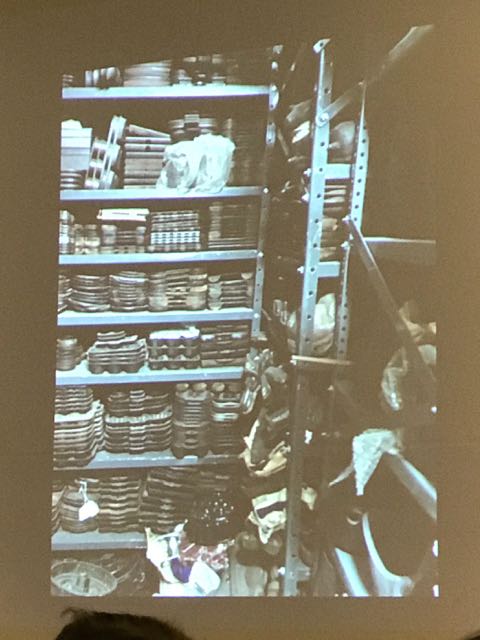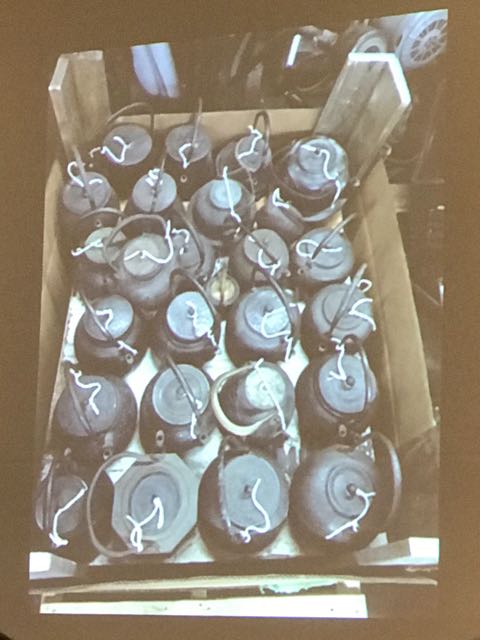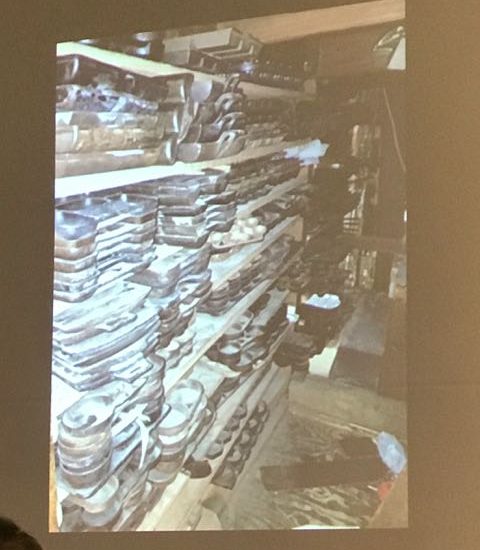 At the end of the presentation on Joel's collection, Jeff Schiff announced that the collection was going to be donated to Lodge. Joel's wish was to create a museum with his collection. 2
The Pre-Party
Each year the convention has "hosts" – people who do all the legwork and planning to make sure that the convention is a success. This year the hosts were Clayton Mitchell and Malinda Fontenot, Julie and Douglas Soileau, and Brenda and Tommy Lewis. They did an amazing job. No detail was overlooked, down to GCICA drink cozies, GCICA styrofoam cups, GCICA stickers, GCICA wooden spoons, aprons, shirts, and oh so much more. It was a ton of work, and our hosts did an outstanding job. Thank you!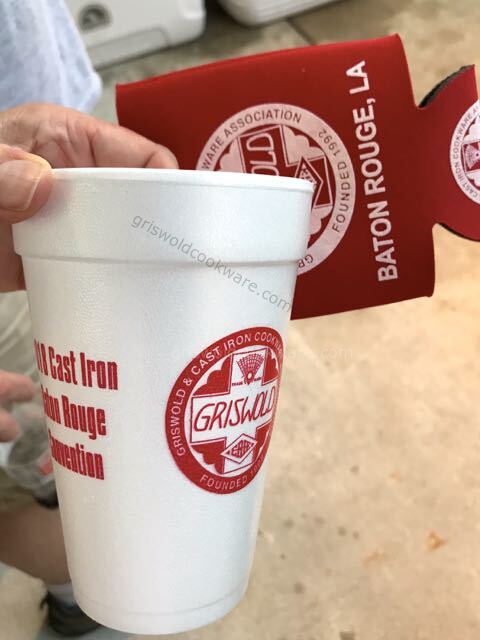 Clayton and Malinda – along with a small army of their friends and family – hosted a "pre-convention" party/dinner at their lovely Baton Rouge home the night before registration commenced for the convention.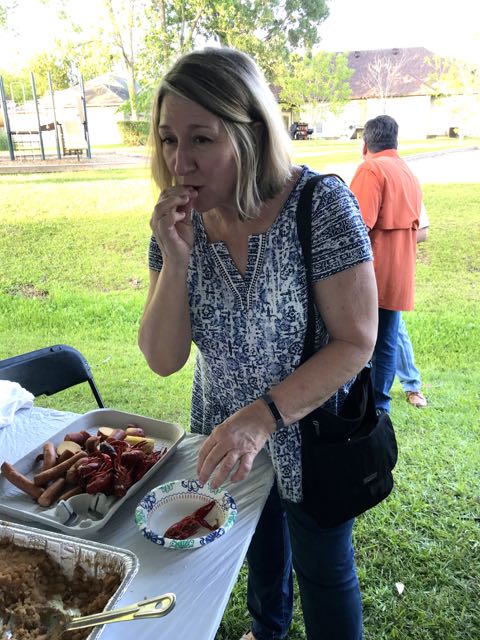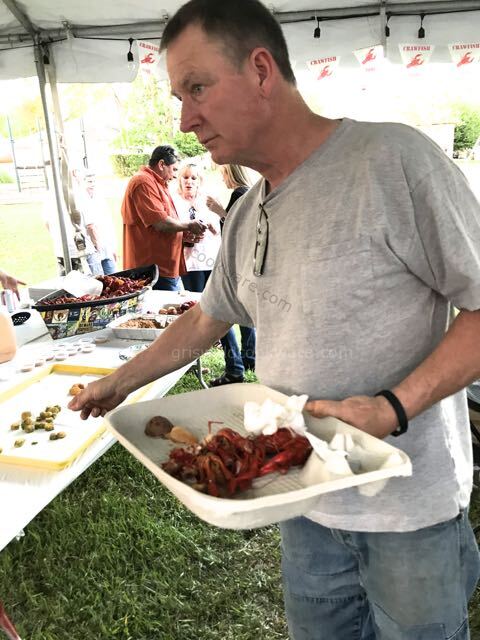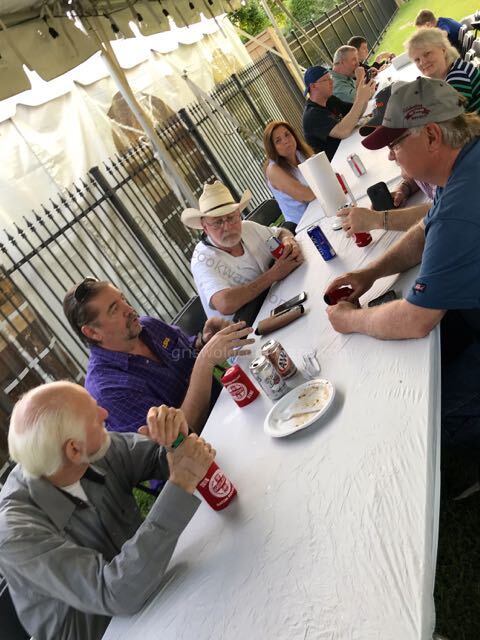 Our hosts put out a dizzying array of Southern food. I don't even know what it all was! In addition to a crawfish boil, they served up fried catfish, jambalaya, alligator, red beans and rice, sausage bread, and much more. It was very cool to see the army of people cooking outdoors in giant cast iron cauldrons. You could tell this wasn't Clayton and Malinda's first time at the rodeo – one of their neighbors commented, "they have a lot of parties." I thanked some of the helpers before we left, and one person who said, "When Clayton calls, you come!" Clayton and Malinda are very gracious and accomplished hosts. It was a great gathering.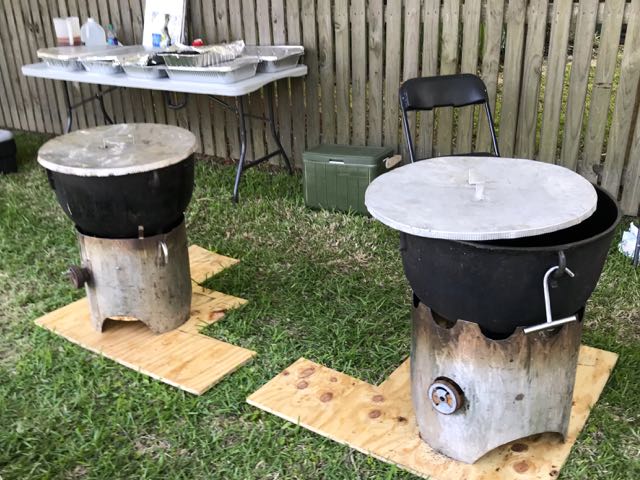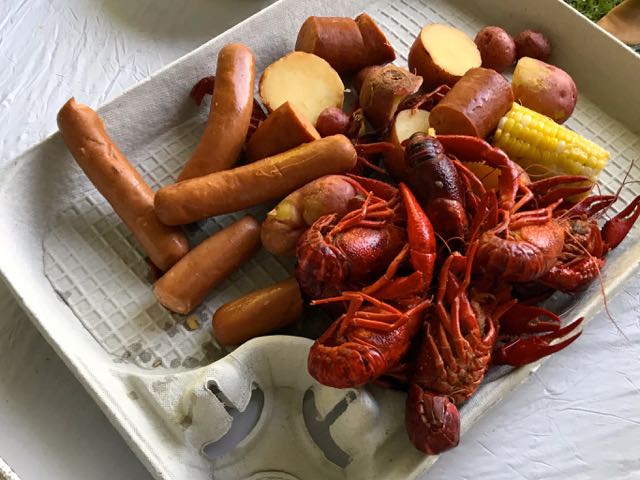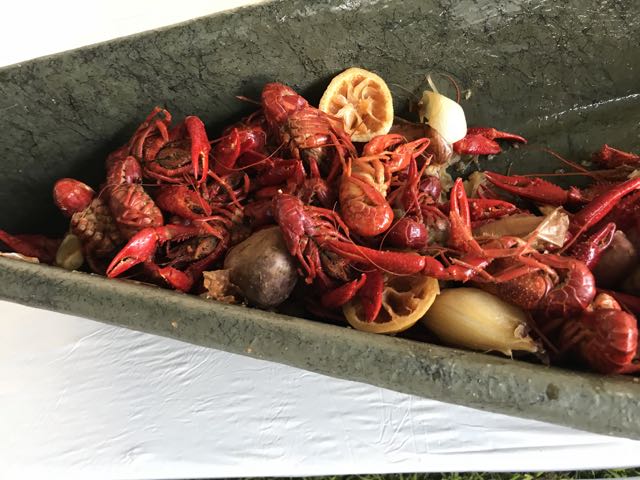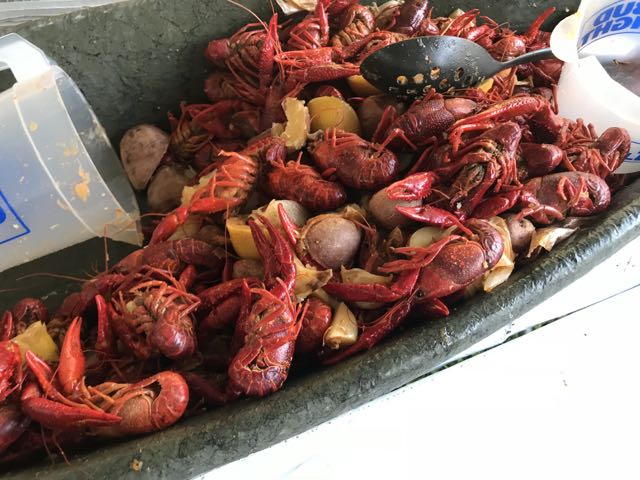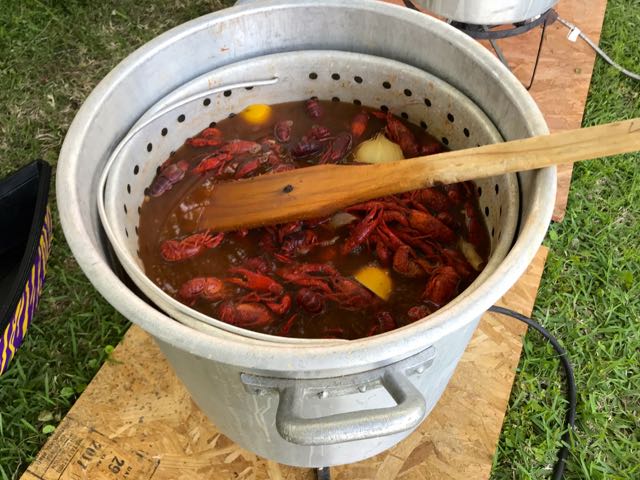 Part of the Cast Iron Collection of Clayton Mitchell
Clayton has a large and significant cast iron collection. Clayton and company had set up tents and built wooden stands to display part of his collection so that GCICA attendees could take a look. It was an amazing sight; my photos don't do it justice.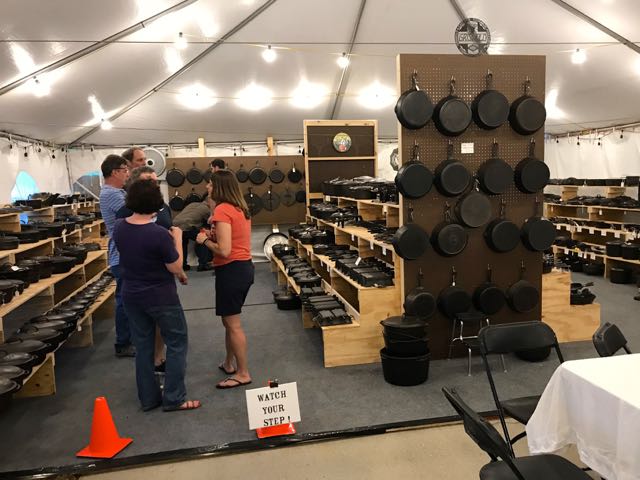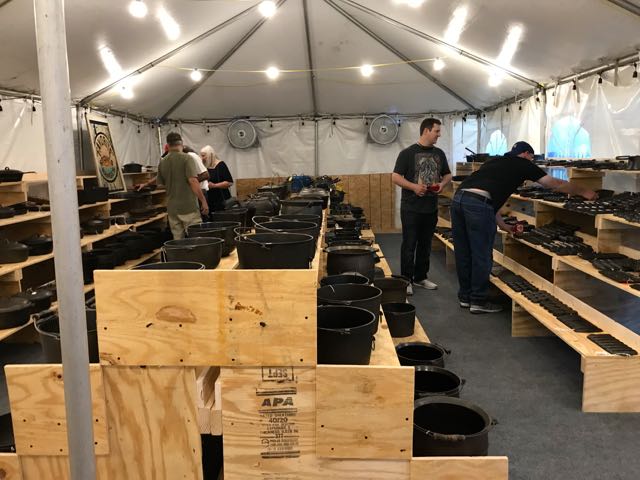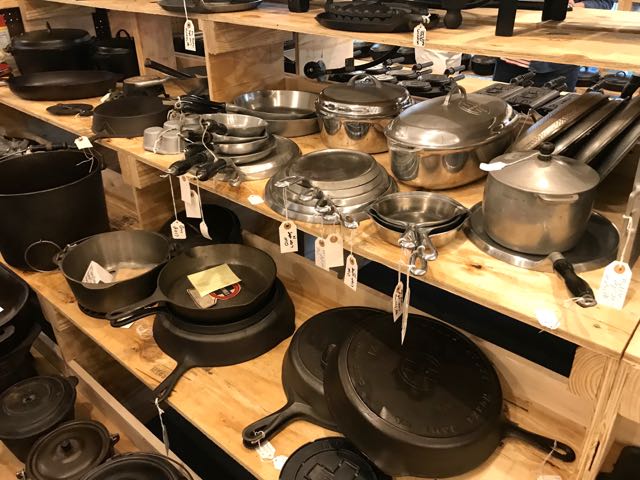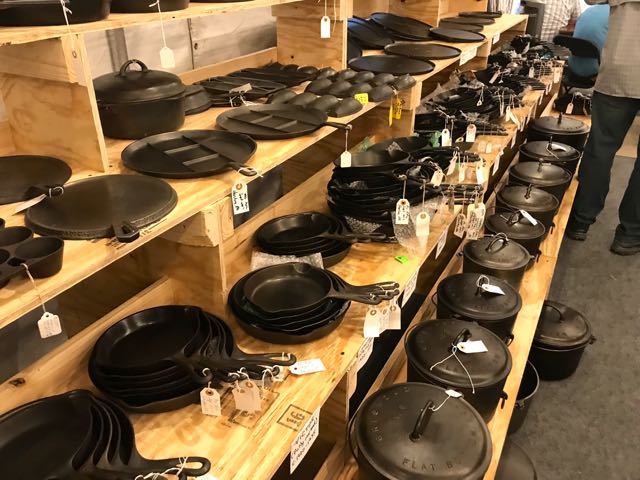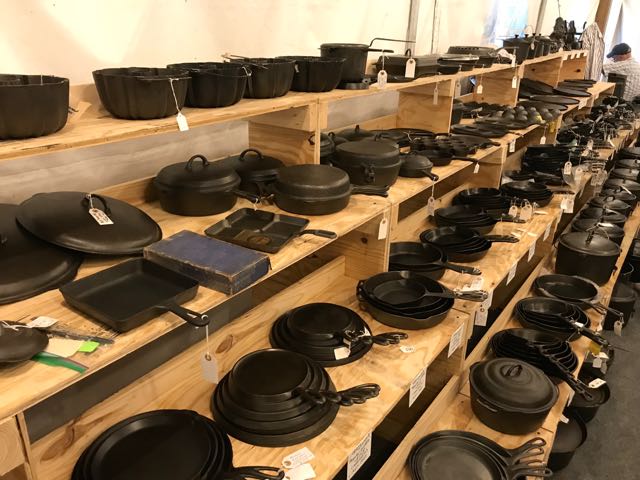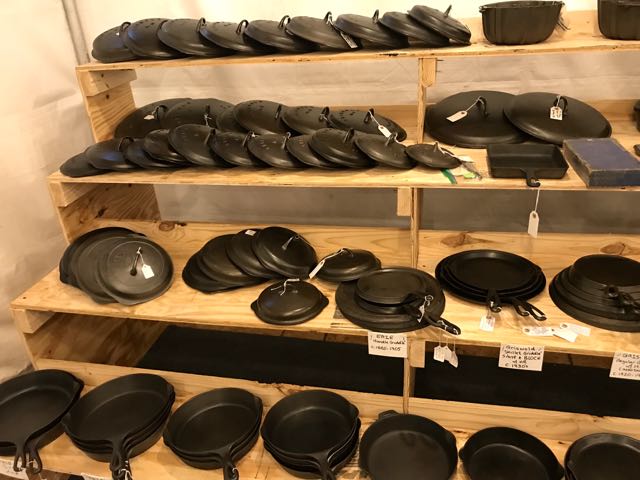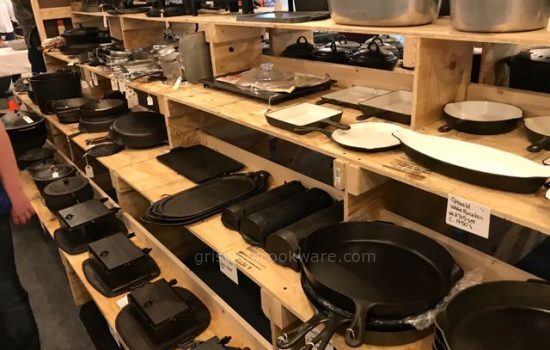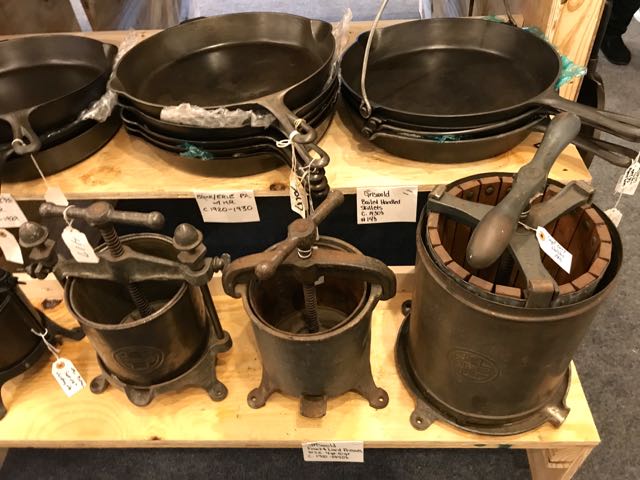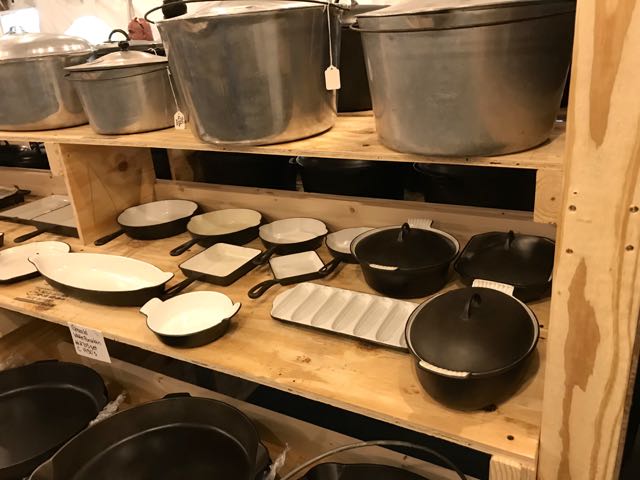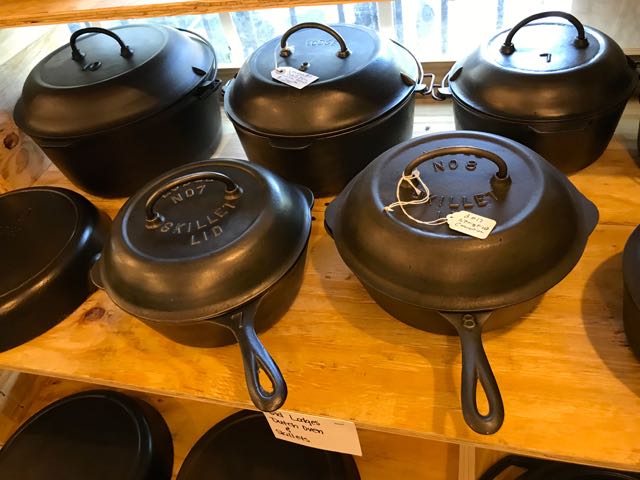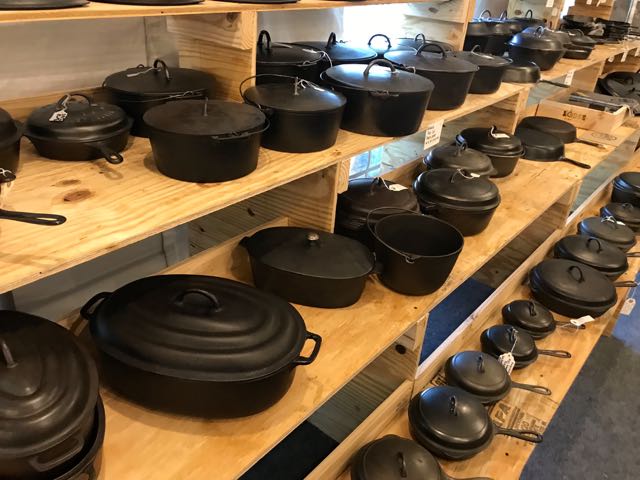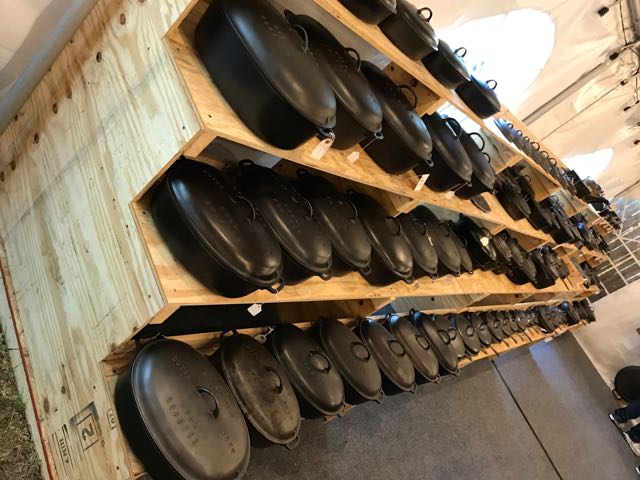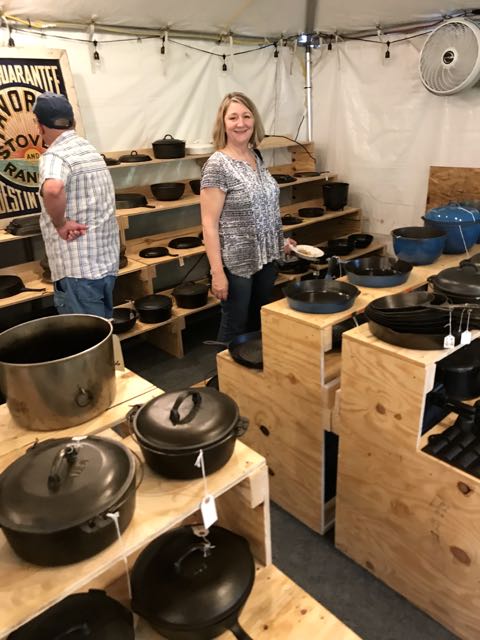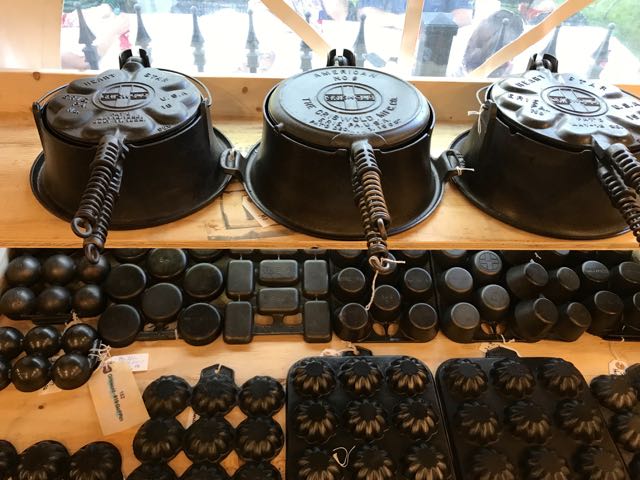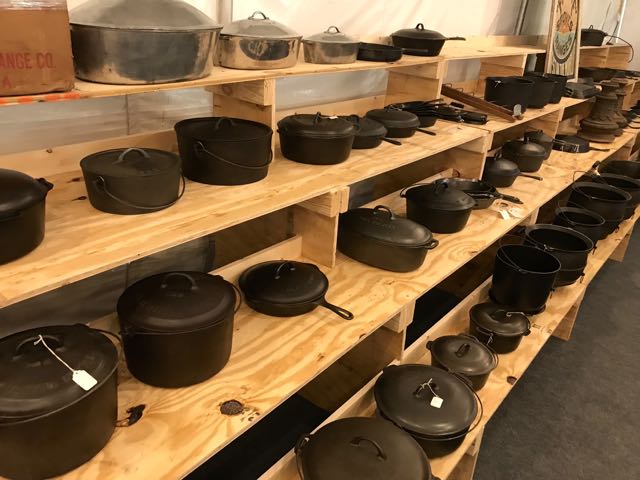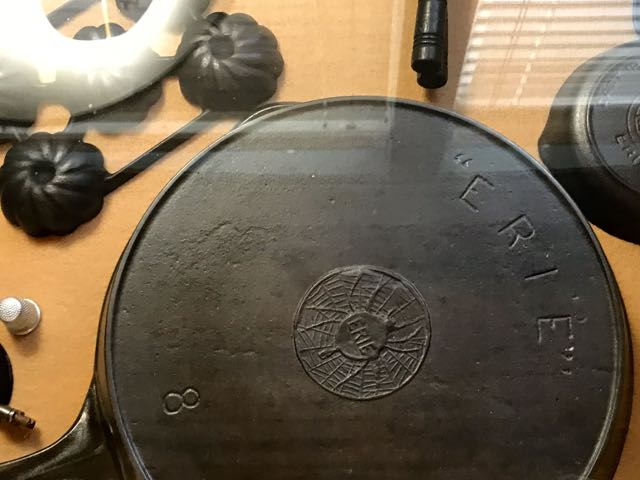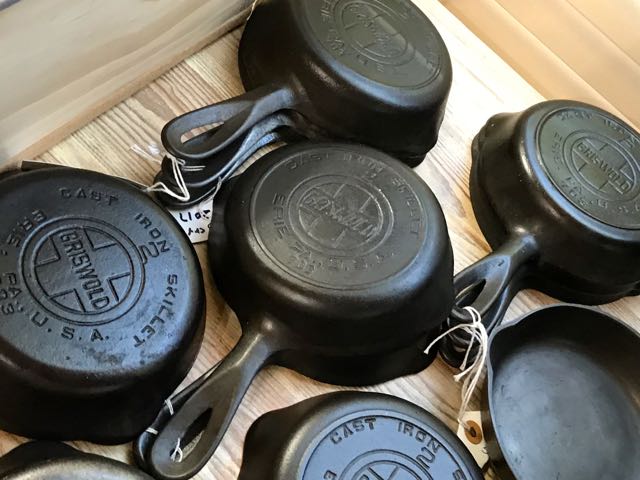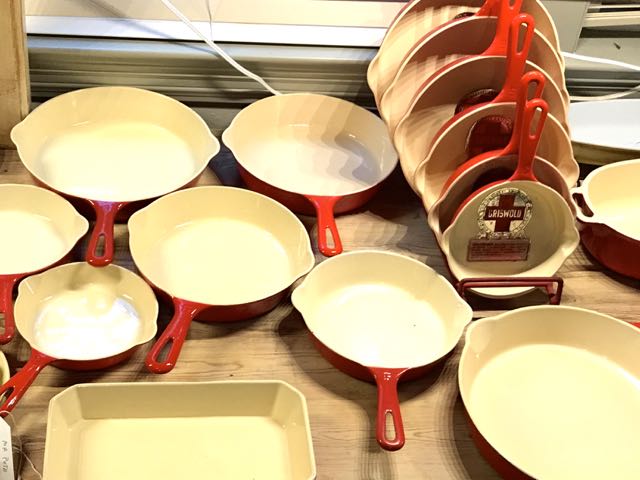 And, a Swamp!
Linda and I took a little side trip during the convention to see the Bluebonnet Swamp Conservation Nature Preserve. This was my first tour of a swamp. In fact, I'm not sure that I've ever spent any time looking at a swamp.
t was interesting to see cypress tree growths poking out of the swamp. There were also some odd built-up domes around holes in the ground – I still don't know what they are. The bird songs were lovely, and we enjoyed seeing all of the flora and fauna. We were also very excited to see a water snake lounging in the sun. While we looked for 'gators, we didn't see any. I did sing the Jerry Reed "Amos Lee" song throughout much of our visit, however, surely to Linda's consternation. "Gator's got your granny…chomp…chomp chomp chomp." Even now, the song still goes through my head at odd intervals.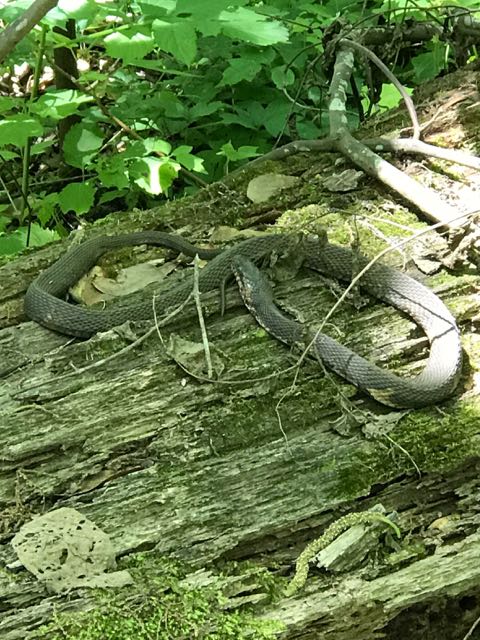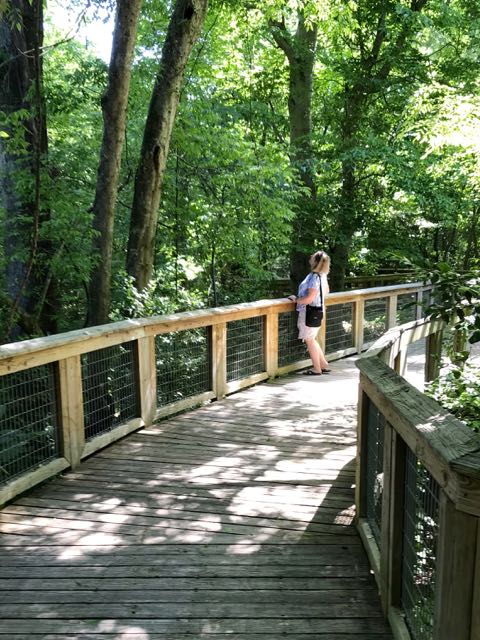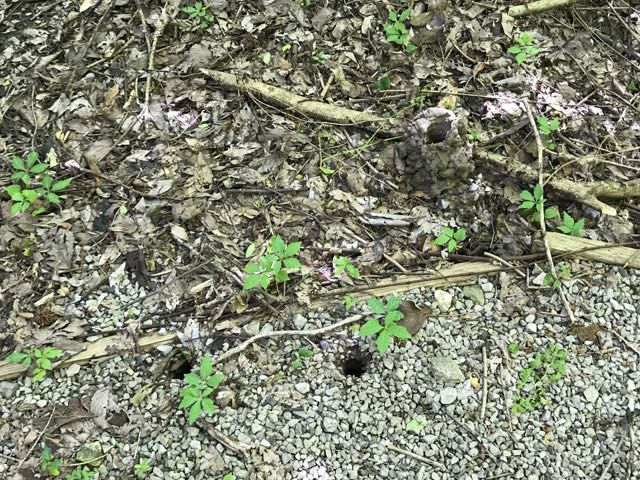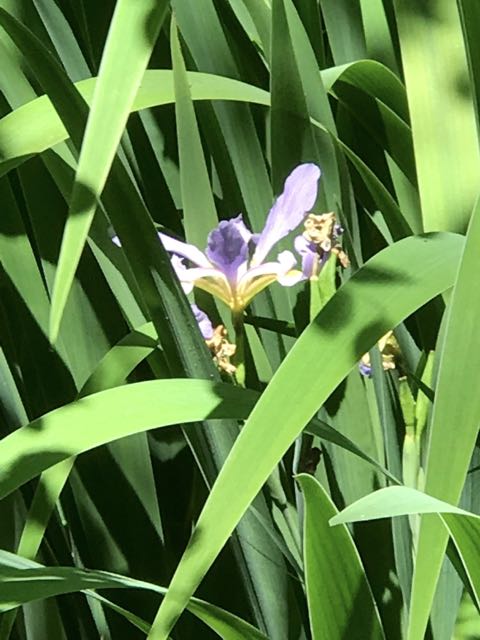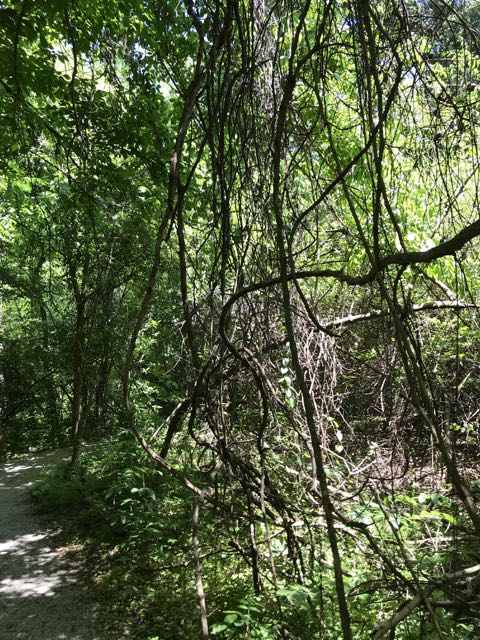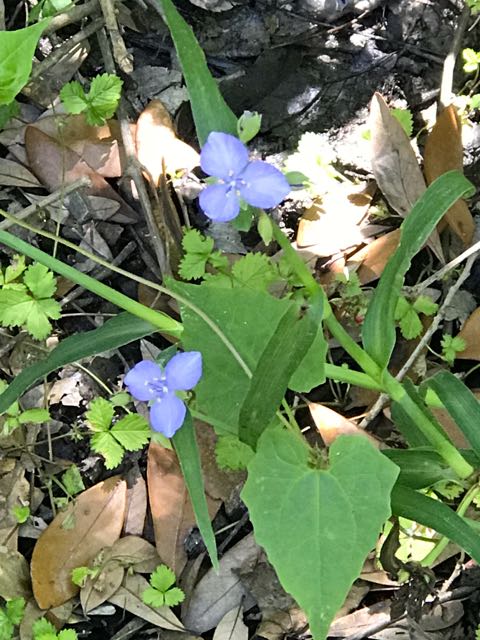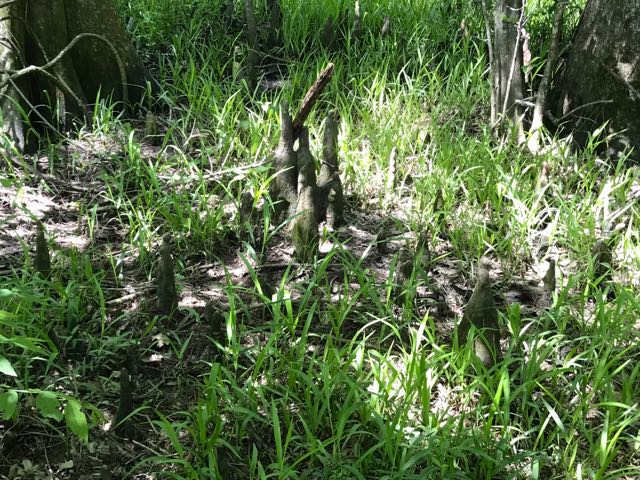 At the end of the convention, Linda and I headed down to the Big Easy – my first time in New Orleans. We did a quick tour of the French Quarter and of course, tried the Beignets. Given all of the activity during the week we were tired and didn't focus much time on our visit to NOLA, but it was cool to get a little taste of what it is like. I'll be back again someday!
If you have an interest in vintage and antique cast iron cookware, you should consider joining GCICA! Check out the Facebook page, and find the membership application here.
Lodge opened a cast iron museum in October 2022.