I recently had the pleasure of seeing three different vintage All-In-One cast iron skillets/separators within a time span of about 2 weeks. (Note: this writing was originally made and posted in 2018).
Purpose of All-In-One Cast Iron Dinner Skillet
My understanding of the all-in-one cast iron dinner skillet is that the division in the pan enabled the homemaker to cook three different dishes at once – e.g. meat and two vegetables – on one stove eye. This would save time and fuel – similar to the stated purpose of the Griswold BOLO oven.
The "All-In-One" pan is similar to other compartmentalized vintage pans such as old Breakfast Skillets and griddles which typically have 3 or 5 compartments: for egg, bacon, and an English muffin or sausages or potatoes. Different variations of this type of skillet griddle from the O'Neil museum are shown in the header image for this post.
It is not common to run across the all-in-one pans, much less to see three in the span of a few weeks.
Feast your eyes!
Griswold All-In-One number 8 Vintage Cast Iron Dinner Skillet pattern no. 1008
At a February 23, 2019 auction in Indiana, a lovely Griswold All-In-One number 8 cast iron dinner skillet, pattern number 1008, brought $800.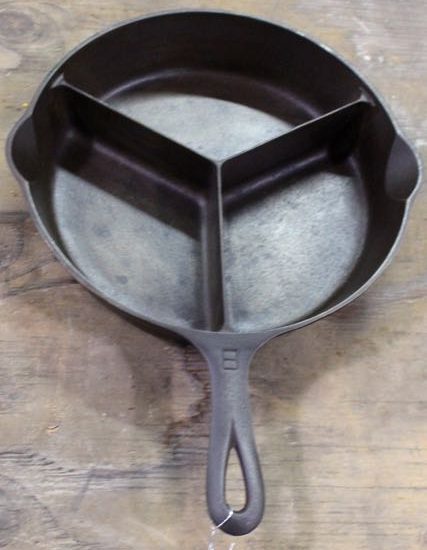 This pan was made by the Griswold Mfg. Co. in Erie PA between 1932 – 1940.
Griswold Cast Iron All-In-One Dinner Skillet Separator, pattern no. 1018
Larry and Marg O'Neil have a rare Griswold cast iron separator, which can be placed in any Griswold no. 8 skillet (pattern no. 704), creating an all-in-one dinner skillet.
The difference between the first Griswold all-in-one skillet shown above and the photos you see below is that the separator can be lifted out. This enables the skillet to be used as a full-surface round skillet, or as a 3-section skillet when the separator is placed in the pan.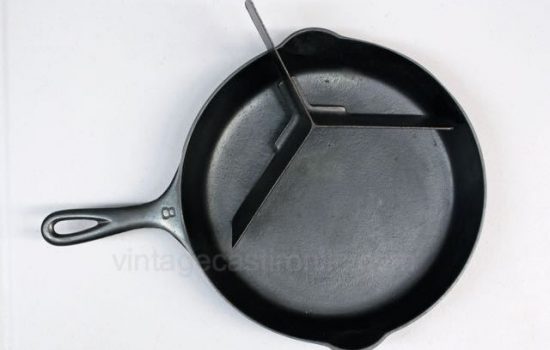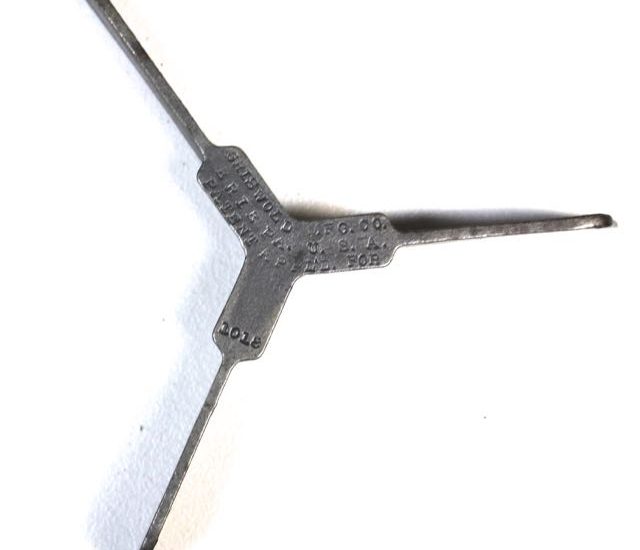 The separator was manufactured by Griswold in 1931.
According to Larry O'Neil, the separator was only manufactured for one year because it was learned that liquid seeped beneath the "arms" of the separator into the other compartments. Griswold then began making the all-in-one with the separator attached to the skillet as shown in the first photo.
Birmingham Stove & Range Three-Section Separator for Skillet no. 14
At their cast iron museum, Larry and Marg O'Neil have a vintage Birmingham Stove & Range no. 14 skillet with a three-section skillet separator. It is huge!
Like its Griswold counterpart earlier pictured, this pan can serve both as a large round skillet (with the divider removed) and as a 3-part compartmentalized skillet.
(Note March 2023: I need to find my photo of the O'Neil's fantastic piece! When I find it, I'll update this blog post.)
According to information posted on the Facebook group "Lodge and BSR Cast Iron," the separator itself is steel and it is debated whether or not BSR made the separator itself. To me, it makes sense that the separator was made by BSR as it fits the BSR skillet so perfectly, but debate away as you wish!
Keep your eyes peeled for these when you're out hunting for old cast iron cookware, and let me know when you find one!