Presentation at 2019 Collector's Tent, Lodge Cornbread Festival
I was quite honored to be invited to speak at the Collector's Tent at the April 2019 Lodge Cornbread Festival in South Pittsburg Tennessee. Linda and I made the trek and had a great time both at the festival and on our associated adventures in Georgia and Tennessee.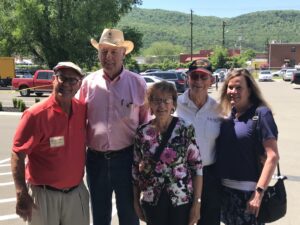 Many Lodge collectors were kind enough to share information and photographs with me about their collections. I particularly appreciated the assistance of Harold Henry, Grady Britt, John Clough, Mark Goldschmidt, and Marg and Larry O'Neil, as well as the Lodge collectors on Facebook in both the Lodge Commemorative and Advertising Skillets and Lodge Lovers groups who shared photos with me for this presentation.
Linda videotaped the bulk of the presentation with her phone. While it's not entirely complete, you might enjoy taking a peek. If you listen closely, you can hear Harold's running commentary in the background. 🙂 1