John Clough collects vintage Lodge cast iron. I mean, he really collects. John was kind enough to show Linda and me his vintage Lodge cast iron collection in September 2018.
John and his spouse KT (Katherine) as well as cats Oreo and Wewe live in a tidy rambler in Chester, Virginia, about 15 miles outside of Richmond.
John is a painter by trade and cast-iron collector by choice. He has been collecting vintage and antique cast iron for only about four or five years (note: this article was written in 2018), but he has a large and significant collection – particularly of Loth and Lodge.
1
John's primary interest is vintage Lodge cast iron. He is a student of the iron. He learns everything he can about the business, history, and production. John says, "I want to know everything about what I collect."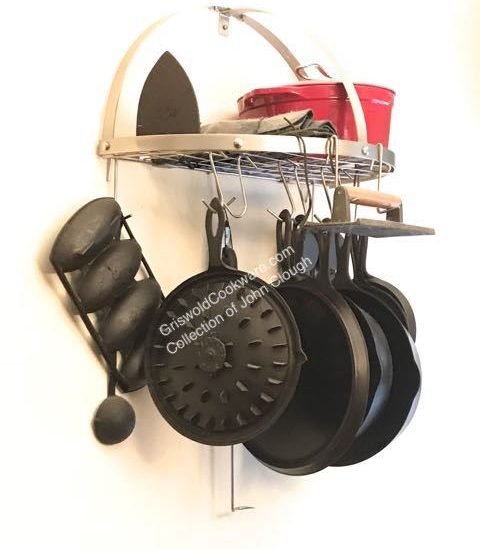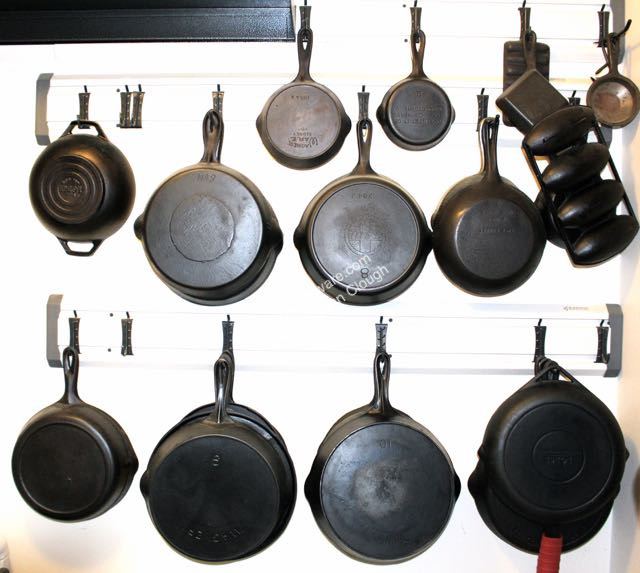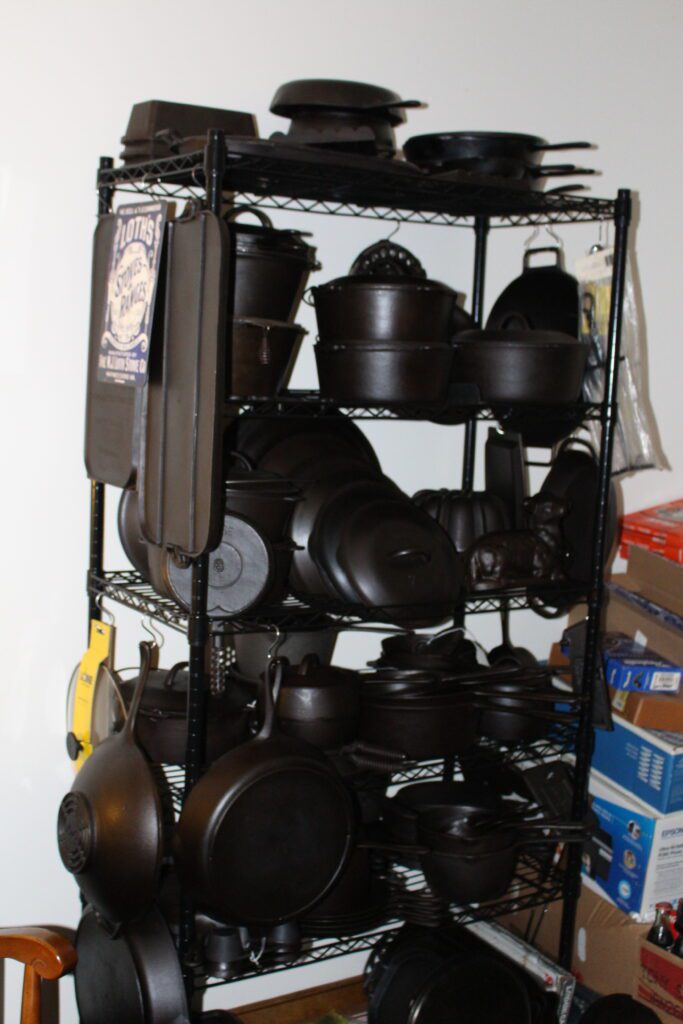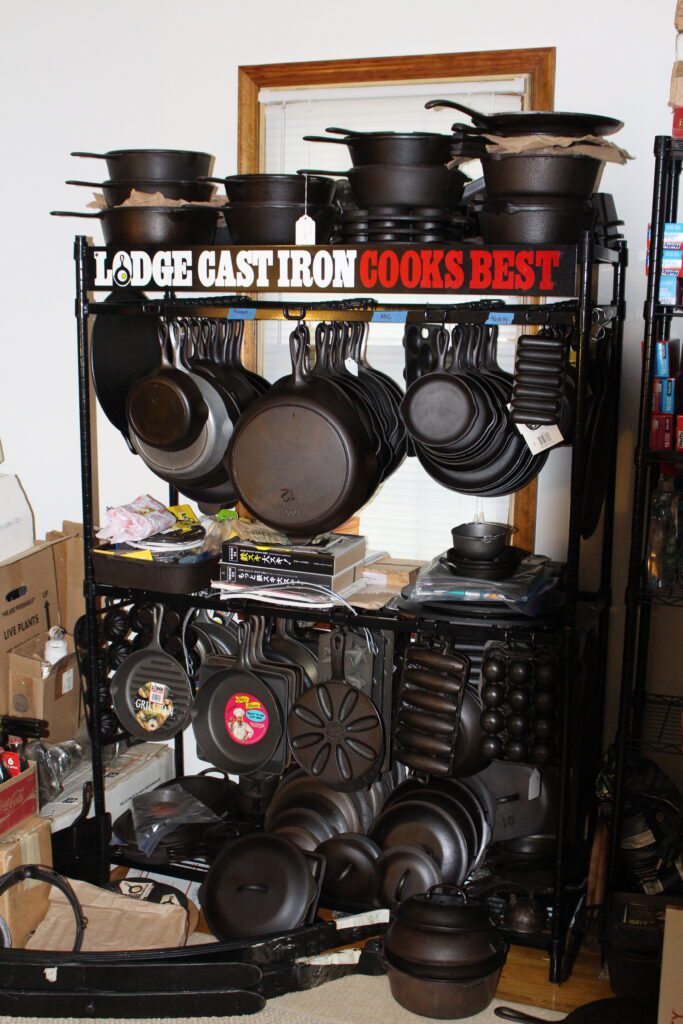 How John Became Involved in Vintage Cast Iron
When John moved into his home about 10 years ago, he found two cast iron skillets had been left in the oven. One was a Griswold small logo number 7, and the other was a Birmingham Stove & Range ("BSR") Century Series number 10.
John researched the history of those two skillets, and it ignited a spark. That spark grew as he watched a particular cast iron cooking show with a friend; he decided to start a collection.
John and I joked about how for some of us, a "spark" of interest becomes a full-blown obsession. For John, that was indeed the case. He told me that this is how he does most things. He doesn't do things halfway; he moves full speed ahead. Before he started to purchase iron, he began doing research and learning about the different manufacturers and the iron.
Why Lodge?
John made a deliberate choice to focus on vintage Lodge cast iron when he began collecting. He figured that old Lodge pieces were more readily available than some other manufacturers such as Griswold, and at least back then they were more reasonably priced. John also appreciates that with Lodge, he'll never be "done." "I'll never finish it in my life."
Lodge is the longest-running American cast-iron foundry – Joseph Lodge founded the company back in 1896 – and they are still in production. John respects that Lodge is and always has been run by family members, who are dedicated to protecting the Lodge name, reputation, and product.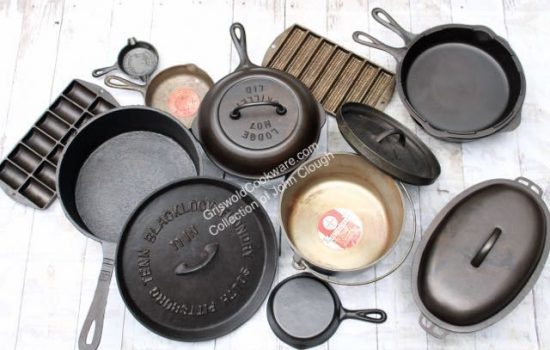 John the Fact Detective
John is very committed to his hobby. He spends about 5 hours a day on the Internet and studies everything he can find about vintage Lodge cast iron. He examines old pieces, looking for variations and factual explanations for the variations. He questions commonly-held beliefs in his search for provable facts.
John is inquisitive. He doesn't take things at face value – he researches, investigates, and challenges statements presented as fact before he accepts them as so. John has found through experience that while certain things may be presented as fact, it may not be the case. As he says, "the iron won't lie to you."
John once located a sealed box of new old stock Lodge skillets marked with the date of 1984. Given what he had read about Lodge production timeframes, John expected to find inside a set of skillets marked with the Lodge "large logo," which Lodge began producing in 1974. Instead, he found skillets marked with the prefix "SK" ("skillet"); markings that John had previously believed were phased out in 1974.
Given his research, John has concluded the timeline for the Lodge "SK," "large logo" and small "drop circle" logos are as follows:
"SK" or another lettering prefix (such as "DO" for Dutch oven) 1965 – 1992.
"Large logo" egg in skillet begins 1974, ends 1992.
"Small logo" "drop circle" egg in the skillet was introduced in 1992.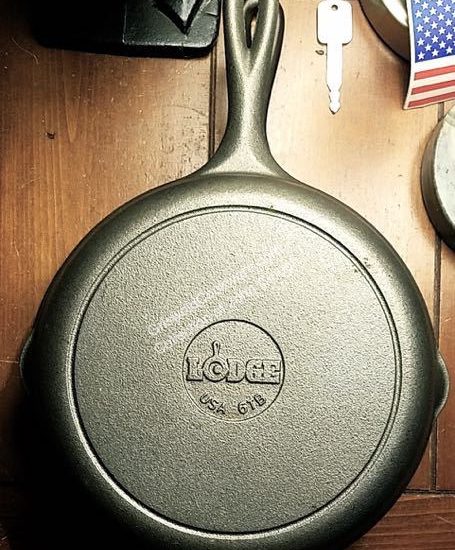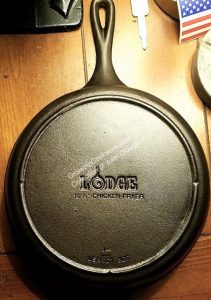 John has full sets of the no-notch, one-notch, and three-notch heat ring unmarked vintage Lodge cast iron skillets. I asked John about the timeline for those skillets. The standard given timeframes are:
"No notch" 1910 – 1930
"Single notch" 1930 – 1940
"Three notch" 1940 – 1992 with some variations throughout that timeframe.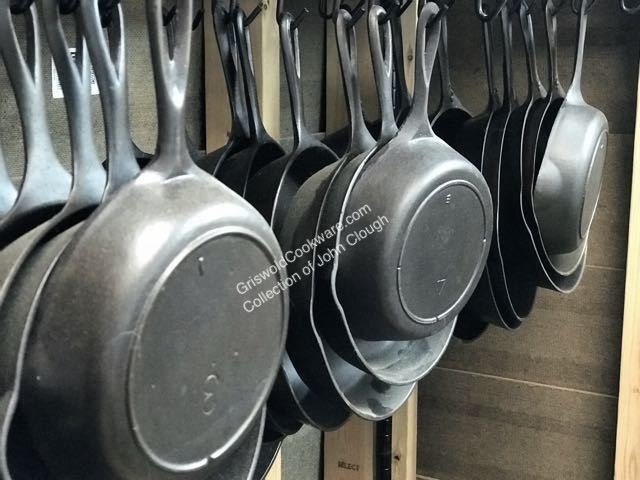 John believes that there was an overlap in production between the no-notch and single-notch skillets, and has been studying to either prove or disprove that theory. He enjoys the challenge and likes to take the position of "devil's advocate" with other cast iron enthusiasts.
For example, to John it doesn't make sense that Lodge would keep the business afloat during the Great Depression of the 1930s by making novelty items such as gnomes and doorstops, as has been posited.2 John says, "If you can't afford to put food on the table, why would you buy a doorstop?"
John also holds the opinion that when Cahill Iron Works 3 went out of business in 1922, Lodge either purchased their patterns or hired their pattern makers, as Lodge's production significantly ramped up after that time.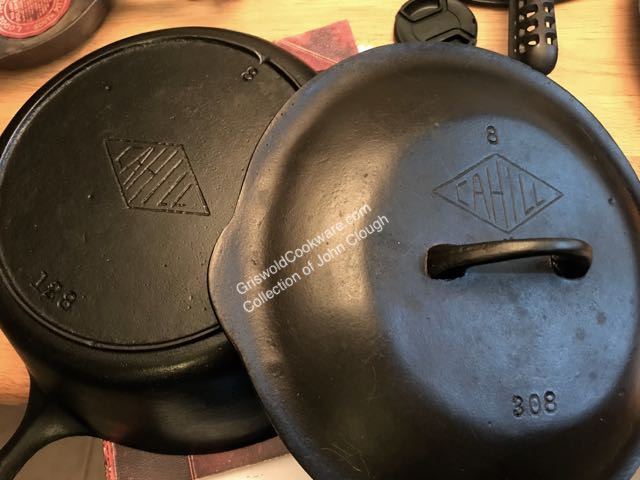 The vintage Lodge cast iron "arc logo" pans are presently believed to have been produced 1910 – 1940, in both single and no-notch variations. John is on the hunt for proof of the timeframe. He believes that arc logo production started later than presently believed.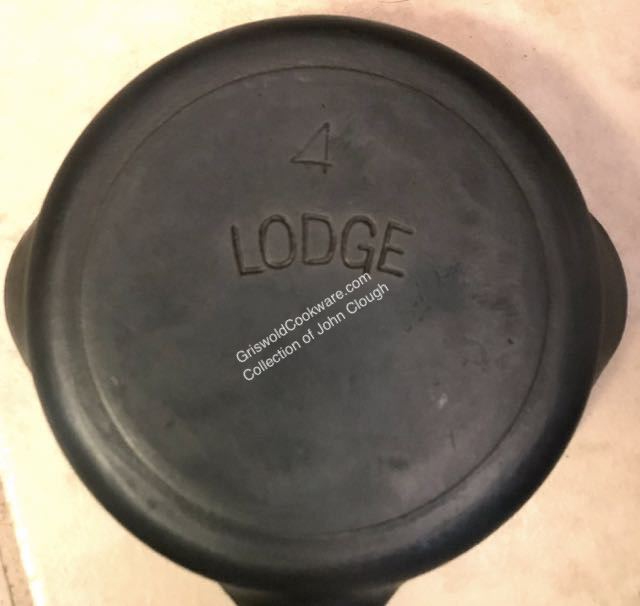 John's hope for a Lodge-Sanctioned Collector's Club
John would like to see Lodge start up a collector's club, where others who share the same passion for vintage Lodge cast iron can connect and share information with each other and with the company.4 John appreciates other collectors who are interested in the iron and its history; not just people who want to know, "How much is this worth?"
Where John finds his iron
John is well-connected within the vintage cast iron collecting community. He is always on the hunt for unusual pieces, whether Lodge, Loth, or other.
John finds his iron from a number of different sources. He makes trades and also watches eBay and other online sources. He has "pickers" who keep an eye out for him and notify him when they find pieces he may find of interest.
On a recent occasion when I spoke with John, he showed me photos of a skillet that a picker had found for him. John was excited about the find and quickly told the picker to buy the pan.
John even has a friend who lives in Japan who purchases and ships Lodge products to him from Japan. I had not known that Lodge exported goods to Japan. According to John, there is a large market for Lodge products in Japan, and Lodge exports certain items to Japan that you cannot find and purchase in the United States. It was very interesting to see some of these products that John has acquired!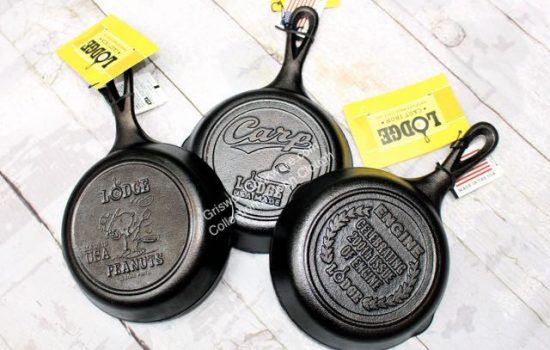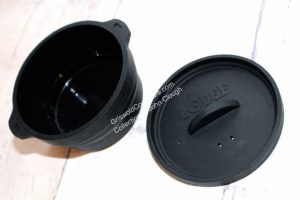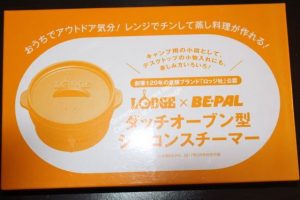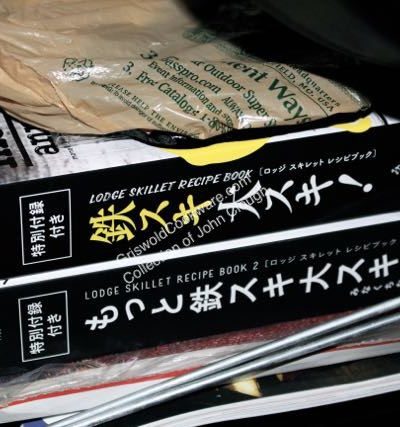 John's advice to new collectors, and where to find him with your questions
John's advice to new collectors? Listen and learn. Focus on one manufacturer and learn all you can about the pieces. Don't willy-nilly start buying everything you find. If you need a particular piece, wait for it. John believes in karma – if you are meant to have it, it will come to you.
John is an administrator on two cast-iron-related Facebook groups: BSR, Lodge, and Hammered Cast Iron and Cast Iron Cookware Identification. He is very generous about sharing his extensive knowledge about vintage Lodge cast iron with others in these groups. It doesn't matter if you are a seasoned collector or new to the hobby; John will help. John's willingness to share is illustrated by his response to me when I first contacted him out of the blue. He said, "I am a Lodge collector. How can I help?"
If you have questions about vintage and antique Lodge cast iron cookware, you can reach out to John on one of the Facebook pages above. He's the one with a cartoon-type character as a profile picture. The character is a longer-haired painter wearing a bandana and wielding a paint roller extension pole as a guitar. John wouldn't let me take his photo on our visit – he doesn't want to be that "out there" in public – but I'll tell you this: he resembles his profile picture. And when I opened a small silicone Lodge container that John has, it was filled with guitar picks.
Selected pieces from the collection of John Clough