Cast iron collector Brenda Bernstein is a master cake-maker-baker-froster. She makes beautiful cakes and is very accomplished at using vintage cast iron cake molds.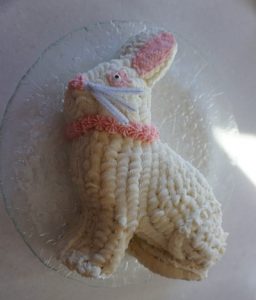 Given that Easter is just around the corner, I decided it was time to showcase Brenda's cake talent just in case you were thinking about making an Easter lamb or rabbit cake from your vintage Griswold cast iron cake mold (or some other cake mold).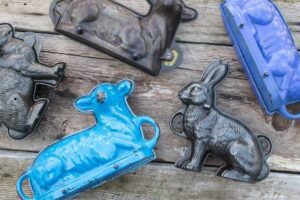 Linda has tried to make a Griswold lamb cake from her personal vintage Griswold lamb cake cast iron mold and has sought out Brenda on more than one occasion to solicit tips and advice. Linda has yet, however, to make a cake that comes close to the "Brenda" standard. In fact, I have yet to see a cake made from a Griswold cake mold that even approaches the "Brenda" standard.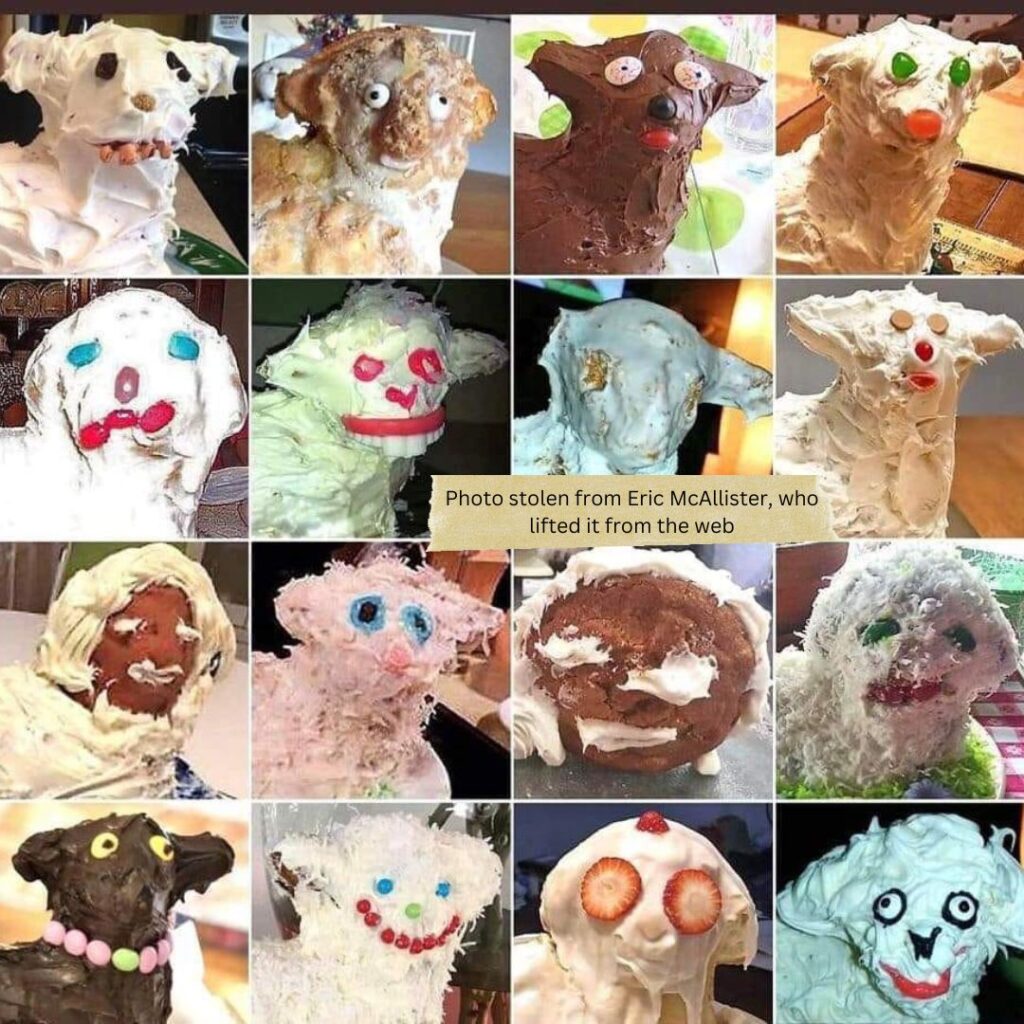 I've seen photos on the web from other bakers, but nothing I've seen to date compares to Brenda's beautiful cakes.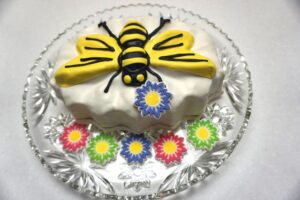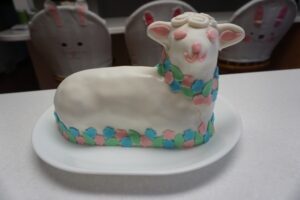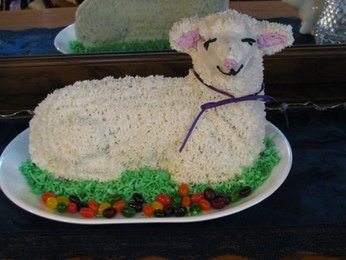 So how, exactly, does Brenda make her Griswold cakes? I asked her, and she kindly compiled her instructions on how to make a successful cake using a Griswold cake mold.
Here are tips to make a cake from a cast iron mold to the "Brenda" standard, directly from Brenda herself. Of course, the frosting is undoubtedly an entire lesson in itself. And practice – practice makes perfect!

Brenda's sure-fire way to make a great cake using a Griswold cast iron cake mold.
Written by Brenda Bernstein
This is geared towards the lamb mold; but can be applied to the Santa and rabbit cake molds as well.
Preparation: Griswold cake mold, cake batter, cookie sheet, toothpicks, "Bakers Joy" spray, and good oven mitts for your hands.
Type of Cake: Heavy, dense cakes seem to work best in these molds. My cake of choice is a regular pound cake.
Directions
Preheat oven to 350
Prepare cake batter
VERY GENEROUSLY spray both sides of the cake mold with Bakers Joy.
Place the "face side" of the mold onto your cookie sheet
Pour cake batter into the cake mold. It should just fill the mold.
Place toothpicks in the ears, nose, and neck for stability.
Place the other half of the cake mold on top.
Place in oven and bake for 25 min.
Remove from oven
Carefully flip the mold over so the "face side" is now up. (Use protective oven mitts.)
Return to oven and bake for another 20 minutes.
Remove it from the oven and let cool on a cooling rack.
After it has cooled, I flip it over so the "face side" is down and carefully remove the top (back side) portion of the cake mold. Then, flip it over onto the cooling rack (the back side of the cake will be on the cooling rack) and then remove the second portion (the front) of the cake mold. Take your time on this step – the head is usually the trickiest part.
Set the cake upright. It is now ready to be either eaten or decorated.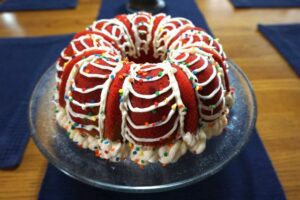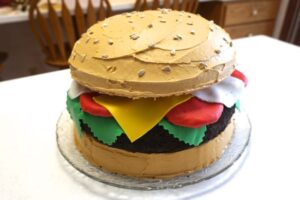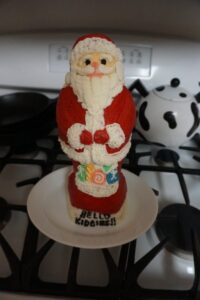 Tips for decorating:
You can use buttercream frosting and coat the entire cake and then cover it with coconut flakes.
You can use buttercream frosting and "dirty" coat the cake, and then proceed to use decorator tips to decorate the cake in a bit more detailed fashion.
You can use fondant as well. First "dirty coat" the cake with buttercream frosting and then apply the fondant as you wish.
You can also make a glaze for the cake and just coat it with the glaze.
NOTES:
If you are making the Santa cake (using the vintage Griswold cast iron Santa cake mold), be aware that it is very difficult to get it to stand upright. I used a long bamboo skewer down the center for more stability and had success with that.
I have not mastered a technique for getting the rabbit (the vintage Griswold cast iron rabbit mold) to stand up on its own yet. Other people have used other cakes alongside it to keep it propped up.
I have tried the original cake recipe that came with the Santa cake mold, but it did not work as well. The cake was delicious though! It would be fantastic prepared in a Bundt cake pan.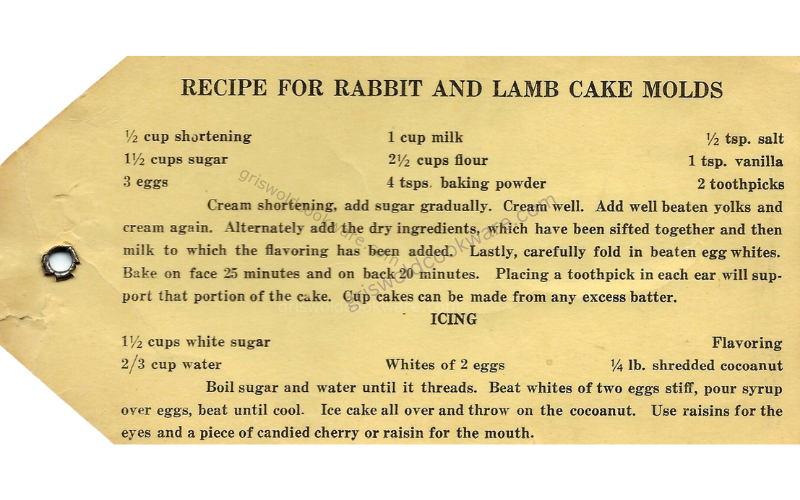 Brenda, thank you for your great cake tips. Now, let's see some more cakes!
Note: Brenda originally provided her directions in 2018. The post has been updated and re-posted.