I have had the privilege to visit with Harold and to see his extensive cast iron collection on many occasions. With every visit, I learn something new.
Harold is a gentleman farmer from Hamilton Missouri who is also an ardent collector. His main focus is Lodge cast iron, though he also has a significant collection of pieces from other manufacturers, notably Griswold.
Harold is a huge fan of the Lodge Manufacturing Company, and tries to pick up every new piece that they make. Harold and Lodge are so connected, in fact, that there is a display of some of Harold's pieces at the Lodge cast iron museum! Lodge has made several videos of Harold and his collection – they even refer to him as a "Lodge Legend!"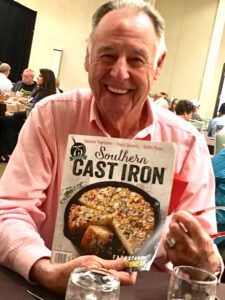 I wrote a little article about Harold's collection back in 2016 for Southern Cast Iron Magazine. It is reprinted below so that you too can read and learn a little bit about the lovely man that is Harold Henry, of Hamilton Missouri. The article was published in the Spring 2016 edition of the magazine.