The "Griswold" silver pup scandal of 1994 caused an uproar in the cast iron collecting community.
Steve's Purchase of Two Silver Pups at an Estate Sale in 2018
Steve L. of La Pine Oregon contacted me. He told me that he had purchased two Griswold silver pups for $50 each at an estate sale in Portland, Oregon. He was excited about his find, saying that he was sure he had "found the Holy Grail."
I was sad to tell him that I thought what he had was the infamous "Griswold" silver pup. I asked him to send me pictures.
Steve sent these photos:
Yep, Steve purchased the infamous "Griswold" silver pup, all right.
I'd heard whispers about the "Griswold" silver pup scandal since I started hanging around cast iron forums, pages, and people. For a long time, all I knew was that a person very well-known in the cast iron world, who is now deceased, was somehow involved in the story.
Since the person is deceased and hence can't clear up any misinformation, I don't want to name him. For purposes of this story, we'll call him "Mr. Big."
Griswold Advertising Pups
In 1937 and 1951, Griswold manufactured sweet 1-5/8″ tall cast iron pups as promotional items. Per a Griswold catalog of the day, the pups were made with black iron, chrome, aluminum, enameled, and Japanned finishes. I personally have a lovely Griswold black iron pup that I purchased from pup collector Doris Mosier.1 For those of you with inquiring minds who need to know, I (over)paid $275 for my perfect pup in (I believe) 2014.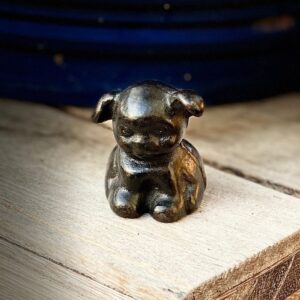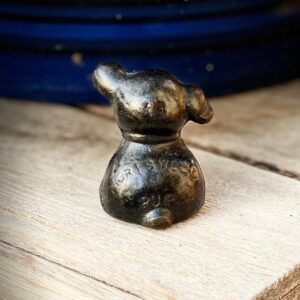 Hank Grycko and the Fantasy "Griswold" Pups
Hank Grycko (now deceased), of Clackamas Oregon, got the idea of making what is known as a "Griswold fantasy piece," that is to say a product that may look like a Griswold product but is not, and is not offered as so. A "Griswold reproduction piece," on the other hand, is a product that looks like it might be Griswold but it is not, and is offered as an authentic Griswold-made piece.2
Reproductions/fantasy pieces are more common than a new collector might imagine. It is always a sad day when a person purchases a piece and is very excited about their find, only to learn that the piece is a reproduction or fantasy piece.
Mr. Grycko produced fantasy Griswold silver and gold-coated pups and advertised them for sale. The ".999 fine pure" silver pups were sold for $250. The "Silver .999 fine pure with 24 karat Gold Plate" pup was sold for $295.
Mr. Grycko was quite clear in his ad for the pups that his pups were not made with the intent to dupe buyers. He did not represent that the pups were manufactured by Griswold, though the pups carried the name "Griswold."
Mr. Grycko approached David Smith 3 about placing an ad for the silver pups in Mr. Smith's "Kettles n' Cookware" newsletter. Mr. Smith declined the request
because of my fear that on the secondary market, these could be later passed off as original Griswold rarities by an unscrupulous vendor. I explained that I would run the ad if the pups were significantly marked or dated, so they could be readily identified from originals. The producer [Mr. Grycko] declined.

Kettles n' Cookware, Vol. 3 no. 5 (Dec. 1994).
Mr. Smith was a wise man.
For at least the first production run, Mr. Grycko's pups had the markings .999 silver, 14 kt or 18 kt, depending on the finish. The castings did not include Mr. Grycko's identifying information. On later runs, however, he began casting his initials "HG" into the base of the pups. Id., Vol. 3 no. 6 (Feb. 1995).
Lessons I've Learned about Fakes and Fantasy Pieces
I have twice been fooled: once with a "Griswold" number 2 skillet, and a second time with a "Griswold" 5-tier Dutch oven stand.
When I was new to vintage and antique cast iron, I bought a pan represented to be a Griswold large block logo EPU no. 2 skillet for several hundred dollars. Upon receipt, it was clear it was a reproduction. In fact, upon closer examination of the (eBay) photos, I should have seen that it did not have the hallmark Griswold quality.
The second time happened after I had been in the cast iron world for several years. An experienced collector several states away from me sold me a "Griswold" Dutch oven stand with 5 levels. I was very excited to have the stand; it was my first one.
I showed some cast iron collecting friends photos of my new piece once I got it home and was immediately told it was a reproduction/fantasy piece. Closer examination showed it had been handmade. There was no Griswold pattern number on the stand, and the "Griswold" marking at the top of the stand was apparently cut from a skillet. The tag on the rack was for a Griswold Tite-Top Dutch Oven; not a rack.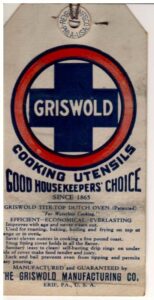 I felt pretty stupid to have thought the stand was authentic. When I called the seller, he claimed the rack was authentic Griswold. I asked how he knew, and he told me he had shown it to that same "Mr. Big" referenced in this post, who had told him it "looked good."
I returned the rack to the seller. 4
Mr. Big and the 1994 Auction Sale
A Midwest auction house held a cast iron auction in 1994. People consigned pieces to the sale, including Mr. Big.
In part, Mr. Big consigned two silver "Griswold" pups to the auction. In consigning the pups, Mr. Big is alleged to have told the auction house a story about how he obtained the pups. I talked to a person who worked at the auction house, who confirmed the story.
Mr. Big's story went something like this: Mr. Big somehow acquired a lunch box of a deceased Griswold employee. Inside the lunchbox were three of these silver pups with the Griswold markings. Mr. Big's impression, which he passed along, was that the employee or employees made these silver pups on a break and smuggled them out of the plant. Mr. Big consigned two of the pups to the auction house; keeping the third for his own collection. 5
The auction house had no reason to question the information they were given about the pups. The pups were promoted at the auction as authentic Griswold pieces. And of course, they would be very special pieces indeed, as employees supposedly made them "off the clock" and smuggled them out of the plant.
Mr. Big was present at the auction. When asked, he publicly verified the story to the crowd and to individuals at the auction. He said that he personally would authenticate and verify the information. 6
The pups sold at the auction for $1,175 each.7 The couple that purchased the pups was very excited and happy to have these exclusive and rare pieces.
Upon learning that the pups were fantasy pieces
Two months after the auction sale, Mr. Grycko contacted the couple who had purchased the pups and explained that he feared that the pups they had purchased may have been made by him and not by Griswold as represented at the auction. He asked the couple to make tracings of the markings on the pups. They did so. Upon receipt, Mr. Grycko confirmed that the two pups that had been purchased at the auction were his creation. Kettles n' Cookware, Vol. 5, no. 6 (Feb. 1995). Thereafter,
We called [Mr. Big] and he stated once again they were original Griswold Pups, the story was true as told at auction, and he would authenticate it, that he did not purchase them from [Mr. Grycko]. Later in the conversation he did state he had purchased three but not the two that were set in at the auction, that the three he had purchased he still had; if we did not want them he would buy them back because he had another buyer for them at that price. We stated we would leave in a few days and come to his home to pick up the certification. He stated OK.

Letter to David Smith from purchasers of the two silver pups, printed in Kettles n' Cookware, Vol. 5, no. 6 (Feb. 1995).
The next day, however, Mr. Big called the couple and said that he would refund the purchase price if they would send the pups back to him. The couple agreed to send them back upon receipt of a certified check. Mr. Big sent the certified check and the couple sent the pups back to him. Id.
Steve Stephens, an avid collector and cast iron historian, was at the time writing a newsletter for the cast iron collecting community called "Cast Iron Cookware News." Mr. Grycko sent Mr. Stephens the following document so that Mr. Stephens could include it in his newsletter. He also sent it to Mr. Smith for publication in Kettles n' Cookware.
The moral of the story
I told Steve L. from La Pine that his pups were two of the Grycko pups and not pups manufactured by Griswold. Steve L. asked me whether the pups had any collectible or other value.
I don't know of anyone who collects the Grycko pups, and the value – at least to me – would be just the value of the silver. I don't know whether the pups are solid silver, or whether they are silver plated while the interior is a different material. That, of course, would greatly affect the value.
If the pups were melted down, at least two of the Grycko pups would be taken out of circulation and future potential purchasers would not be misled into thinking they had a "Holy Grail" authentic Griswold piece. To my way of thinking, that would be a good thing.
Update: Steve informed me on December 14, 2018, that he brought the two pups to a metal dealer, who tested the pups. They were silver with a gold wash. The dealer told Steve he would purchase the pups from him and melt them down. Steve agreed.
Happily, the dealer paid Steve more than Steve had paid to originally purchase the pups from the estate. And so, two more of the infamous silver pups have been taken out of circulation. To my way of thinking, that was a good resolution.

Note: This writing was originally posted in 2018. It was revised and updated in March and April, 2023.