Scott M. of Medford, Maryland wrote to me via the contact form on the site and asked:
Hi,
I recently purchased a Erie 1786 No 8 Griddle and I am being told it is a reproduction since Griswold never used numbered tags. It was suggested that an original was used as a mold. I did see other examples being sold on other websites so I assumed it was real. Is this a reproduction ? Do you have any tips on identifying fakes? Thanks.
Scott sent along these photos: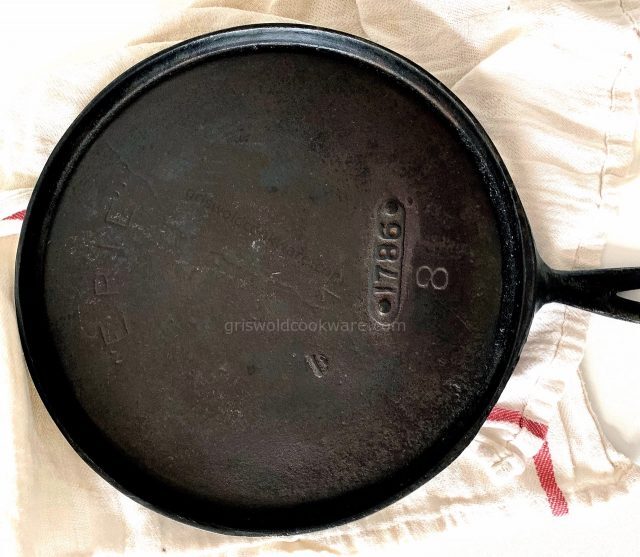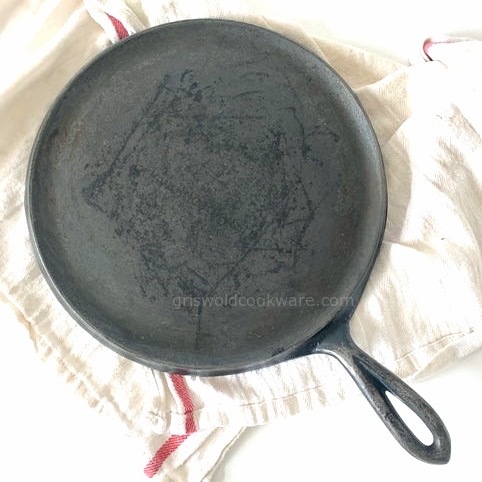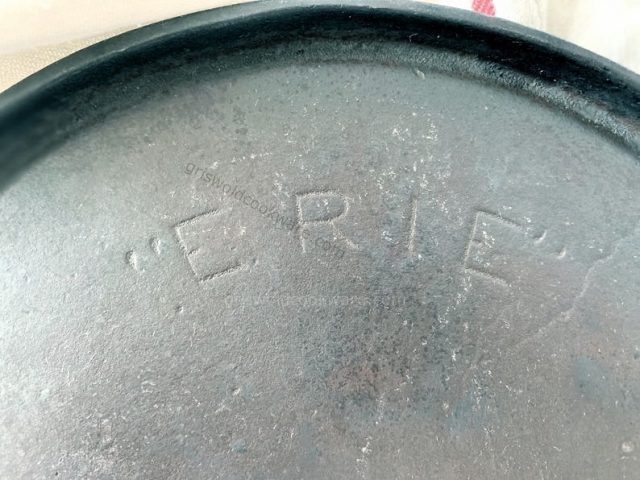 I knew from the "1786" on the griddle that the pan was not made by Griswold; Griswold did not use this type of marking on their griddles.1 I can see that the pattern number is very faint on the bottom of the pan, which could also point to the pan being a recast. Also, the casting on the bottom of the pan is not as fine as I would expect to see on a Griswold. Here is a nice discussion about reproductions, and another about recasts.
A "recast" of a Griswold pan is a pan that was made using an authentic Griswold as a pattern for the recast pan. A Twitter follower of mine told me a story about how his family made ends meet during the Great Depression by making cast aluminum pans using authentic Wagner pans as the pattern. Take a look at the blog post about that story for a bit more information.
This pan appears to me to be a recast of an old Griswold "ERIE" no. 8 griddle. Here is a photo of the bottom of a Griswold "ERIE" no, 8 griddle, pattern no, 738.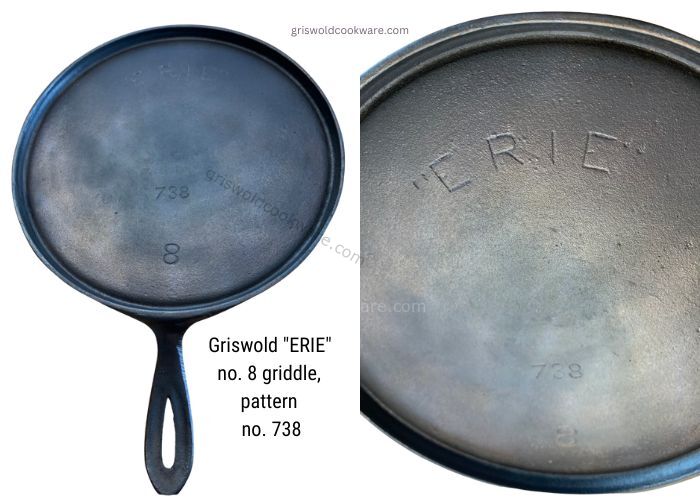 As you can see in Scott's photos, the ERIE marking, along with the number 8, is on the bottom of the griddle. The original 738 pattern number is just faintly visible on Scott's pan (the 7 is clear but the 3 and the 8 are not). The 1786 on Scott's griddle appears to have been some sort of tag that was placed on the Griswold griddle before the sand was tamped around it. That would result in the raised tag and numbers as you see in Scott's photos. I bet if you measured Scott's griddle, too, it would be just a hair smaller than the authentic ERIE griddle; recasts are necessarily smaller than the original.
Scott, despite your griddle not being an authentic Griswold, it looks to have a nice cooking surface and it certainly would be a serviceable piece. Just get it cleaned up and put it into rotation in your kitchen!
Thanks for the question, Scott, and thanks for your patience in waiting for my reply on the blog!
Note: Originally posted in 2018.