Dinky's Auction Center in Montgomery, Indiana, had a large two-day auction for vintage cast iron pieces on December 2-3, 2022. The auction was for "extras" from the collection of Louisiana cast iron collector Eric McAllister.
Eric is a huge Griswold collector – he even has a "Griswold" tattoo on his upper arm. I knew that this auction would include quality pieces since they were from his collection, so I watched the auction with interest. I wasn't able to attend the auction in person, but I saw that the catalog was posted on Invaluable – one of the online auction services.
Pre-Auction Considerations
I've written before about large cast iron auctions and I try to heed my own advice, though it is not unusual for me to get caught up in the excitement and buy more than I planned. For this auction, I reviewed the auction catalog in advance to decide what I really, really wanted and what I would bid on. I considered the maximum amount I was willing to pay. I factored in the reality that I wouldn't get to view the items in person (and that all items are "as is, where is" – i.e. no refunds or complaining). I read all of the auction terms and conditions, so I knew that there would be a 20% "buyer's premium" added to the final hammer price. I also knew that I would need to pay for shipping, and given that cast iron is heavy and needs to be carefully packaged (it is brittle and can break!), it would be pricey to ship.
I also saw that Dinky's was charging a $15 "handling" fee in addition to the actual shipping cost. To my way of thinking, that was reasonable. Why?
Dinky's was handling the packing and shipping in-house, as opposed to requiring buyers to find their own shipper – or giving a list of "preferred shippers" who would then charge to travel to the auction house and retrieve the items and pack and ship;
Dinky's was going to need to provide packing and shipping materials for a large variety of heavy pieces – some large and some small, some multiples and some singles;
This was a two-day auction and there would be many, many pieces to pack and ship.
I am always an easy mark for Iron Mountain pieces and for Griswold patty bowls. I wanted to support Eric's auction, and I am always happy to have an Iron Mountain chicken pan, so I decided to bid.
What I bought, and what I paid
Here's what I bought, and what I paid.
I received a separate invoice from Dinky's – as I knew I would – for the shipping charge. The total I paid, including shipping and handling, was $239.96. The photo below shows the price paid for each item including the buyer's premium, and the additional price I paid for shipping and handling.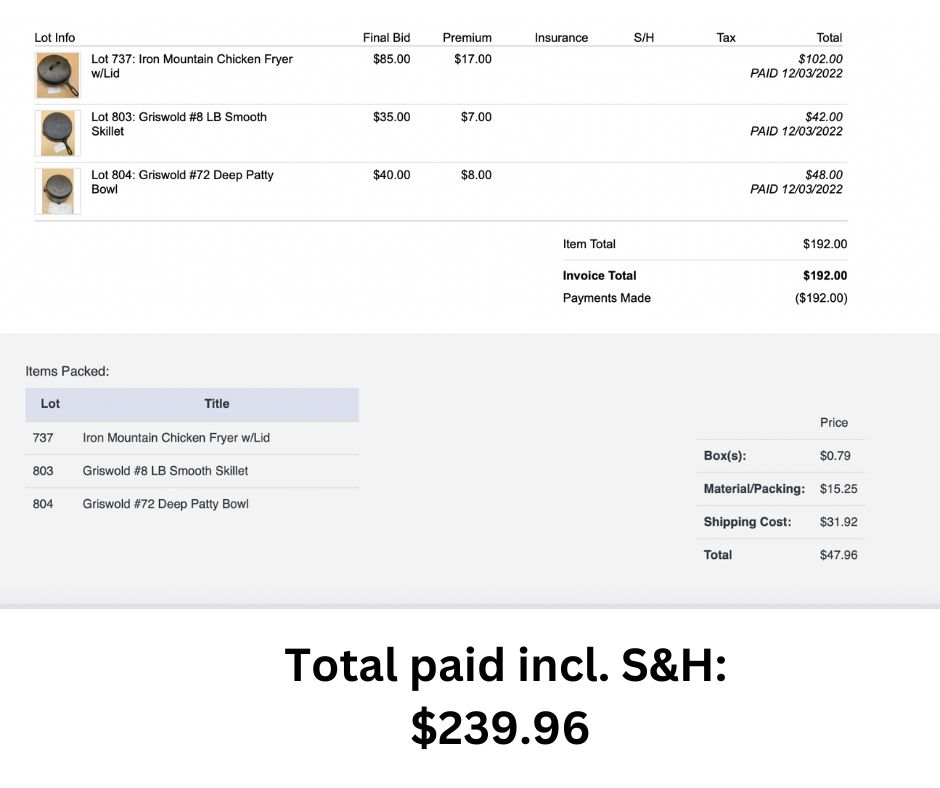 How Did I Do?
Did I get a great deal? Well no, not a great deal, but an okay deal. I was particularly pleased with the pricing on the Iron Mountain Chicken Fryer with lid. I'll buy that set for $85 all day, every day. When it gets to $102 it's still a good price, but a little less of a great deal. When it gets to $150, well, that's pretty much retail. At least as far as I'm concerned. When received, the Chicken Fryer turned out to be a beautiful set. I'm very pleased!
I was also happy with the patty bowl – I'm always an easy mark for patty bowls. I like them for serving soups and chili, and they also make cute displays and serving bowls.
I felt that $42 for the no. 8 skillet was a pretty good price for a cleaned large block logo no. 8 (not as good as the $20-$25 I routinely paid when I first started my cast iron journey but not as much as you'd pay now), but unfortunately when it was received it had quite a wobble. Well, more than a wobble, it had a spin. It's still a great pan for baking, of course, but a little less useable for me on my ceramic cooktop.
Do I consider it to be Dinky's fault that the wobble was not mentioned in the auction listing? No. You are always best served by examining auction pieces in person. I did not examine the pieces in person. I knew that I was assuming the risk that there would be a defect in the item that was not noted and not pointed out in the auction. My thinking is that I have the responsibility to determine what I will bid and I assume that risk that there will be an unseen defect. I knew that I was buying the piece "as is where is."
With 800+ pieces, I can't fault Dinky's for not noticing that this common #8 skillet had a spin. For all I know, when they looked at it the skillet was on a surface that didn't allow a spin as much as the granite countertop in the video above. The pan is still usable; just not as valuable to me.1
All in all, I'm pleased with my purchases! I wrote a separate blog post with some of the highest prices realized at the auction; you can find it here.