Richard R. from Collierville, Tennessee wrote to me via the contact form and said:
Hello. I have attached two pictures of a three pour spout skillet I found at an estate sale. One picture is as found and the other after cleaning in lye tank. I have been hunting for cast iron 2-3 years and lurking
on the internet sites and have purchased the red book and blue book for reference books. One of the books made reference to the [L]odge 3 spout. Do you think this is one? I am sorry I did not take [a] picture of
the bottom, any info you can advise would be appreciated. I love hunting for cast iron and learning each facet about its history, etc. Thanks,
Richard attached two photographs to his email. The first showed the skillet pre-cleaning. The second showed the skillet after Richard had cleaned it in a lye bath.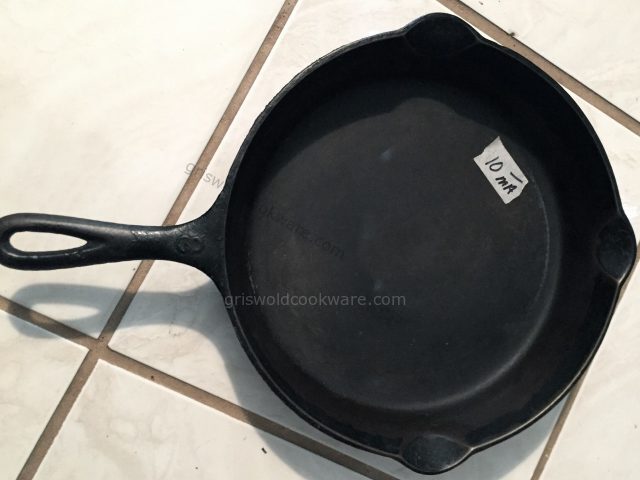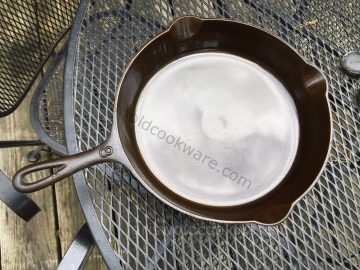 I knew right away from the photos that Richard had a Lodge 3-pour-spout skillet. It looked to be in beautiful condition; I could see the grinding marks on the walls of the pan.
Richard told me that he paid $10 for the skillet at a Memphis, Tennessee estate sale a few years back. Well, that was a lucky buy!
I asked Richard to send me a photograph of the bottom of the skillet. Here are three of the additional photos he sent: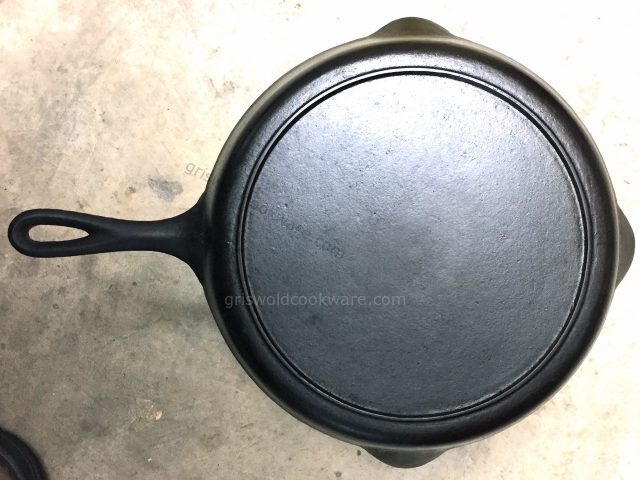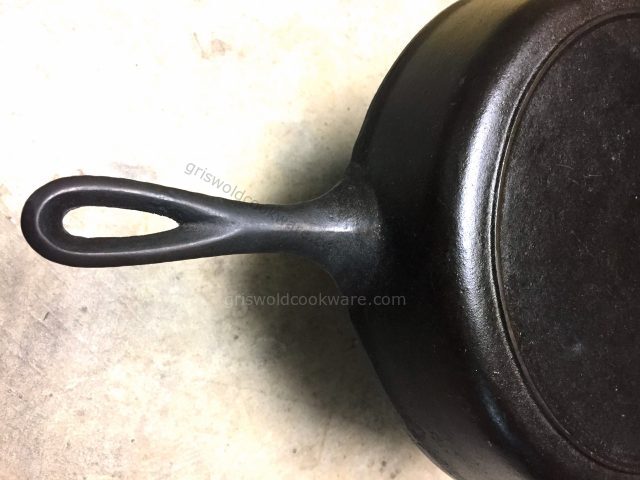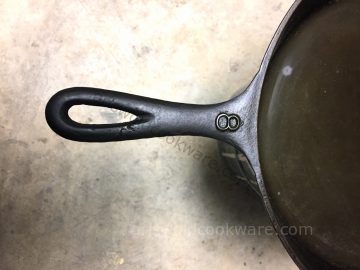 I gave a little presentation at the Lodge Collector's tent at the 2019 Cornbread Festival and showed a number of collector's pieces in the presentation. The 3-pour-spout skillets were featured; they are rare and highly sought-after.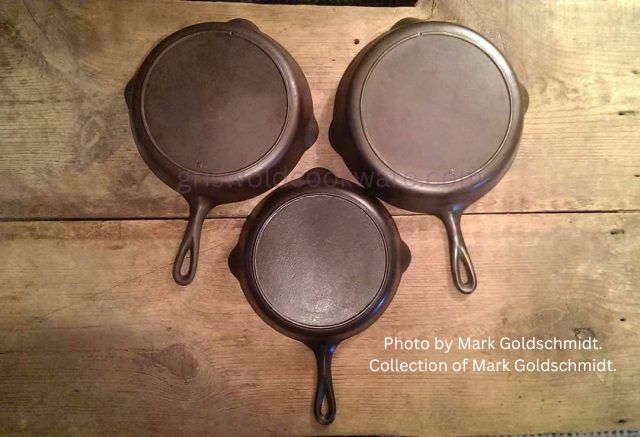 Richard's skillet is a "no-notch" skillet, made by the Lodge Mfg. Co. in South Pittsburg Tennessee between 1910 and 1930.1
I reached out to Lodge historian and collector John Clough about Richard's skillet. I had talked before to John about the 3-pour-spout skillets, and I knew that he would know the monetary value of the pan.
Richard, John told me (in 2019 – I am sure that the value has increased since then!) that he believed that your 3-spout no-notch Lodge skillet would sell for at least $1,000. That's quite a return on your $10 investment. Probably one of the best buys I've ever seen.
Congratulations, Richard! That's a lovely and very valuable pan that you have there. Continue to enjoy your cast iron hunting!
(originally posted 2019).
The "notch" refers to a break ("notch") in the heat ring on the bottom of some old Lodge skillets. In Mark Goldschmidt's 3-pour-spout Lodge skillets, the two at the top of the photo each have one notch. "1-notch" pans were made by Lodge circa ~1930-40. Lodge also made "3-notch" skillets from ~1940 – 1922 with different variations throughout.