Kurt S. from Eau Claire Wisconsin wrote to me via the contact form and asked about the age and history of a pan he had picked up at an auction. He said it was very dirty and he didn't see any information on the bottom of the pan. He was wondering if it was "fake."
Kurt's Pan
Kurt attached these photos: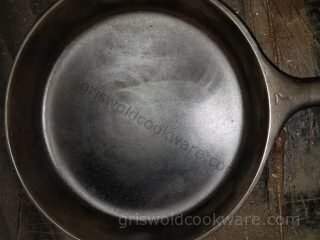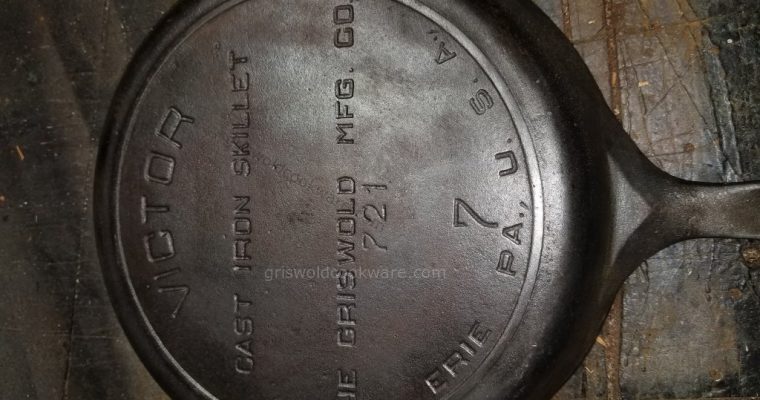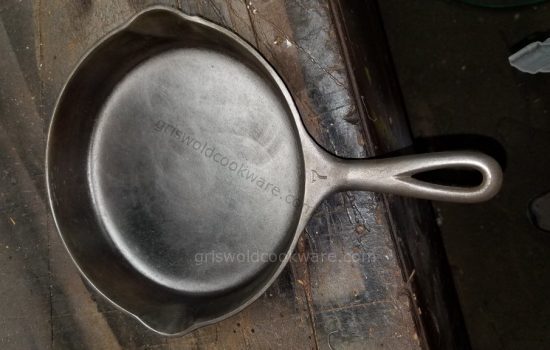 Victor (by Griswold) "Fully Marked" Skillet
Kurt's pan is part of the "Victor" line, made by the Griswold Manufacturing Company of Erie, Pennsylvania. As with just about all Griswold-made pieces (prior to the sale in 1957), they are collectible.
Kurt's pan is known as the "fully marked" version of the Victor line by Griswold. The fully-marked pans were manufactured from the 1920s to 1935. They are generally considered more collectible than the Victor pans that are not fully marked.
Here is an example of a Victor pan that is not "fully marked." As you can see, the Griswold name is not on the pan, nor are the words "cast iron skillet" and "Erie, PA, U.S.A."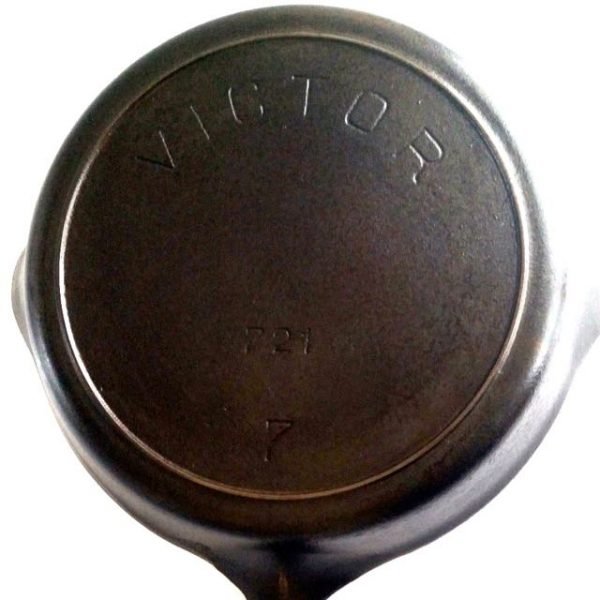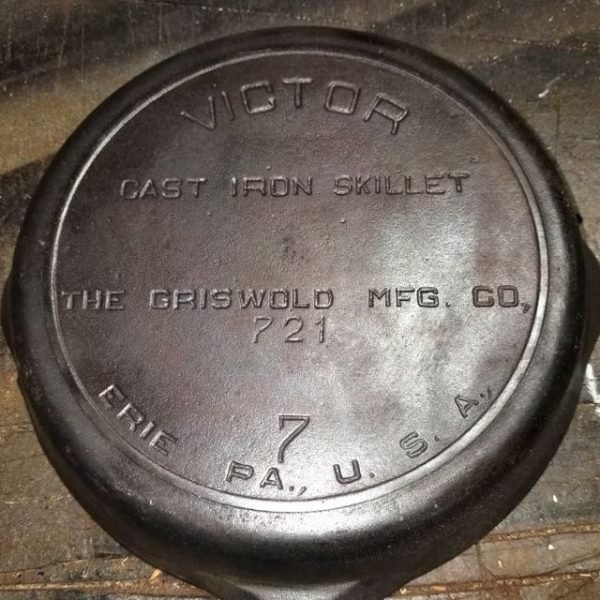 Google Images Search
From the photos, it appears clear that Kurt's pan is authentic; i.e. it is a pan that was made by Griswold in Erie, Pennsylvania. If Kurt had wanted to do a google images search to help identify his pan, he could have. Just typing the words "griswold victor 7 cast iron" into a google images search resulted in an abundance of visual results showing images of similar pans.
Pricing of Pan
I did a quick check of "sold" listings on eBay for the past 90 days. I used the search words "Victor 7 cast iron." 21 listings came up. In the past 90 days, Victor no. 7 cast iron skillets have sold for between $36 and $119, not including shipping fees.1 Quite the price spread!
Damage from Wire Wheel
One thing that definitely hurts the collectability and value of Kurt's pan is the fact that someone took a tool – perhaps a wire wheel – with a heavy hand to the surface. You can see those marks in the top photo. The tool marks decrease the value of the pan. A collector would not be interested in a pan that had these tool marks, unfortunately.
The tool marks are quite visible on the photos that Kurt sent, but in case you are having difficulty understanding the marks to which I refer, I highlighted a few on the photo below.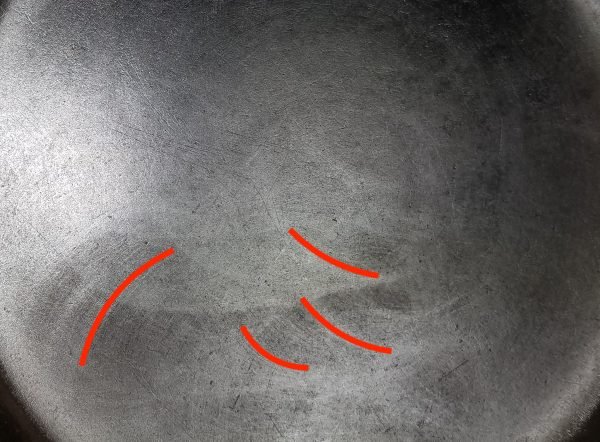 The tool marks should not hurt the pan's cooking ability, however.
Kurt – use the pan and enjoy it. It has a lifetime left in it and then some.
Note: Originally published in 2018. Updated with current pricing 2023.