Jennifer M of Livermore California wrote to me to ask a question about a vintage ACCO cast iron pup via the "Contact Mary" form. She wrote:
"I was going through a few boxes of my grandparents special items. I came across the little orange puppy and remembering it sitting on my grandfathers side table. I loved it so much he gave it to me.

Thought I lost it, probably didn't remember I even had it until I came across this little gem.

I've been doing a lot of research and finally came across your page. I've found so far that he may be related to the cartoonist John Hubley (1937-1977) yet can't find any cartoon related.

You stated that Bucki Carbon Ribbons Grizwald is a typewriter company so now I'm confused if either of the two are related?!?

Mine also has the "ACCO Hines Pup" and I see you also are at a loss of who is Hines or ACCO.

Have you found any more info on this and can you provide me with any more info than what I know, what I read on your blog and what I've researched?

I saw on eBay my pup can sell from anywhere between $198 to $30…very large gap!

I do not want to sell him as it was a very early childhood memory of my grandfather but still interested in the history.

Thank you!"
Jennifer sent these photos: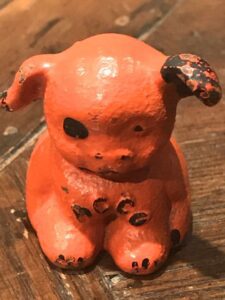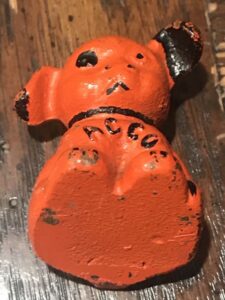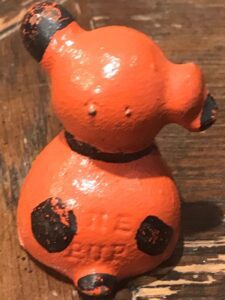 Jennifer, as a matter of fact I have learned a bit about your grandpa's pup.
The Griswold and Cast Iron Cookware Association, one of two vintage cast iron collecting clubs in the US, previously had a forum on their website that contained much valuable information about vintage cast iron pups. Included in that information was some about your ACCO pup! 1
These little vintage cast iron pups were used by many companies as giveaway advertisements for the company. They were also made by students as a learning tool, and given away at schools for good attendance. I am sure they were made for many other reasons; these are just a few.
Pricing for the ACCO Pup
Before I jump into ACCO, I want to address your comment that your ACCO pup "can sell from anywhere between $198 to $30." Remember that the prices you see on eBay are an asking price. Don't presume that just because someone has a piece listed for a particular price, that the price is actually the value of the piece.
A seller can ask for any amount they want for an item. What is relevant is what a piece actually sold for; what a person actually paid for a piece.
I made a little youtube video on how to look up sold prices on eBay – you might find it helpful.
Pups are highly collectible; particularly those that are harder to find. I did a quick search on eBay on July 1, 2023 for "ACCO Pup," and saw that there were 9 listed. That immediately tells me that the ACCO pup is not particularly hard to find. The asking price varied from $60 + free shipping to the incredibly optimistic asking price of $316 + $19.95 shipping. A search for sold listings in the past 90 days revealed that two had sold – one for $50 + free shipping, and the other for something less than that (a best offer below $50 was accepted) plus $8.65 shipping.
ACCO and Peerless
Jennifer, your ACCO vintage cast iron pup was produced as a small giveaway advertising paperweight piece by the American Chain Company (ACCO) of York, Pennsylvania. On the previous GCICA forum, Wayne Huebschman related the following background for the company (reprinted with permission):
ACCO
The American Chain Company (ACCO), was established as the Weed Chain Tire Grip Company in 1904 and became the American Chain Company in 1912.

Through the years, ACCO built a strong foundation in the overhead lifting and marine chain and fitting markets. The ACCO brand name and product still has a strong presence in those markets today.

A new chapter to the ACCO story was created when the Peerless Industrial Group purchased ACCO in July of 2006. The same high quality product that has been synonymous with the ACCO brand name since 1904 continues to be manufactured today along with all of the products from the PEERLESS INDUSTRIAL GROUP.

Peerless Industrial Group
Established in 1917, Peerless Chain Company began as a small automotive tire chain manufacturer supplying local garage owners and has since evolved into the Peerless Industrial Group.

Today, Peerless is the market leader in the design, manufacturing and supply of chain, overhead lifting, cargo control and traction products in North America. Headquartered in Winona, Minnesota, Peerless operates three manufacturing locations and six distribution centers. The company offers best-in-class products, innovation and custom solutions to a diverse industrial and consumer customer base.

The Peerless product offering is grouped into six categories: overhead lifting, below-the-hook and material handling, cargo control, hardware and industrial, marine and traction.

Peerless is recognized around the world for the premium product brands of ACCO, Peerless, SCC and the patented products provided within each brand.

In August of 2014, Peerless became a wholly owned subsidiary and manufacturing site of KITO Corporation, which is the largest producer of chain and wire rope hoists in the world.

The combination of Peerless, Harrington and KITO brands gives our combined customers access to a much wider variety of products in the markets we serve throughout KITO's global network.

As related by Wayne Huebschmanon on the former Griswold and Cast Iron Cookware Association website.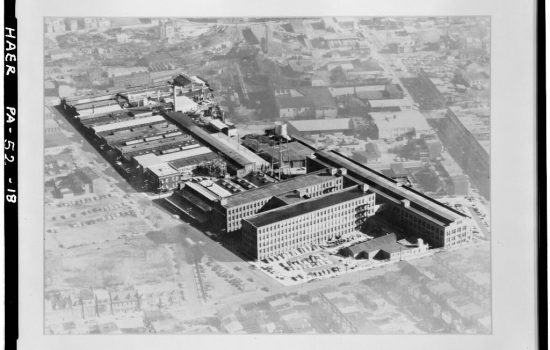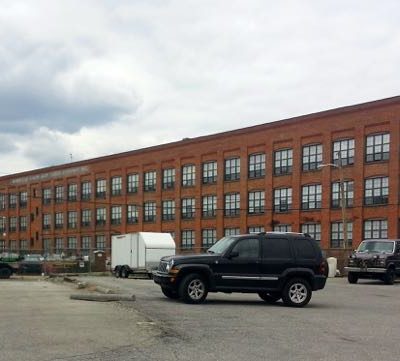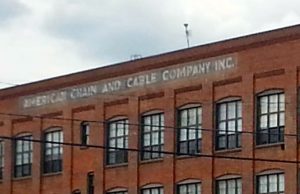 The ACC building has now been converted to apartments. Aptly, the complex is called the "Cable House."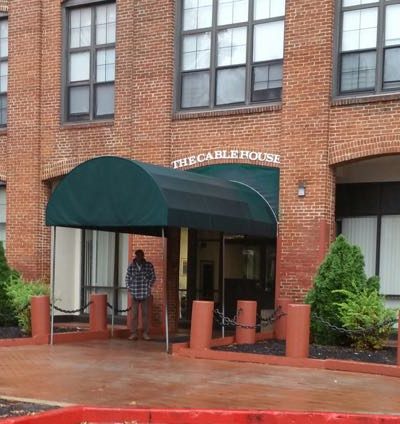 ACCO and Peerless (1917) Pups
The two related companies – ACCO and Peerless – both had orange and black miniature advertising pups. They appear very similar, but one is marked on the front ACCO and the other 1917 (the year Peerless was established). Both pups have a "HINES PUP" ghost mark on their rear. A Hines pup was presumably used as the pattern for the pups, resulting in the ghost mark.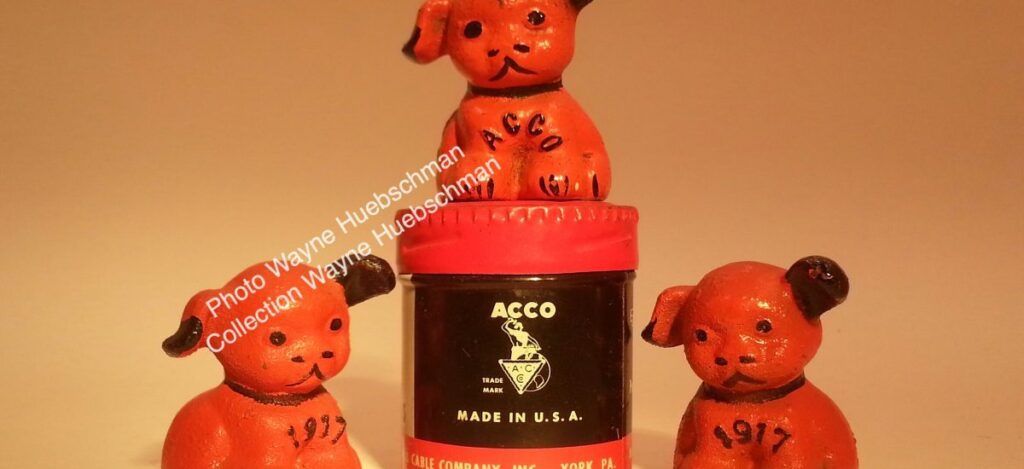 On the (previous) GCICA forum, Wayne Huebschman wrote:
"ACCO started the pup program and at the time Peerless Industrial Group was a subsidiary and some pups were made to advertise Peerless.

ACCO was embossed on the chest of the ACCO pup. Since the initials PIG [for "Peerless Industrial Group"] wouldn't be appropriate for the chest of the PEERLESS pup they used the founding date for the company which is 1917.

I don't know if the pups were actually made by ACCO but it's quite possible as they had extensive foundries. So the ACCO and PEERLESS pups were made around the same time and the majority were painted orange with black accents (ACCO's colors).

From the info I have gathered the pups were probably made in the 60's or 70's. The ACCO pups show up pretty often, the 1917 pups do not, leading me to believe fewer 1917's were made. These 2 are all original and not retouched."

As related by Wayne Huebschman on the previous GCICA forum.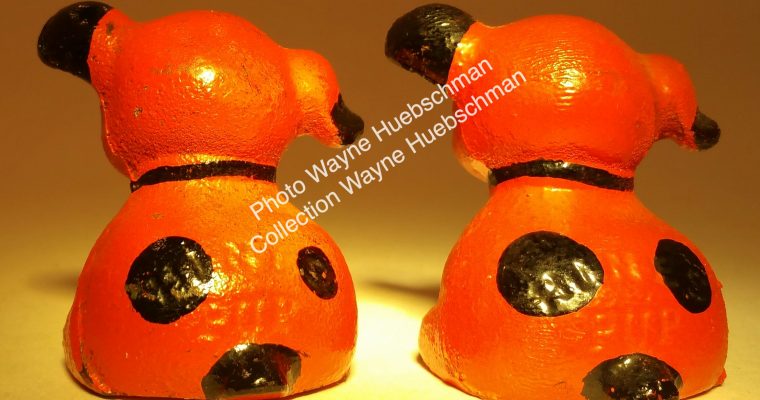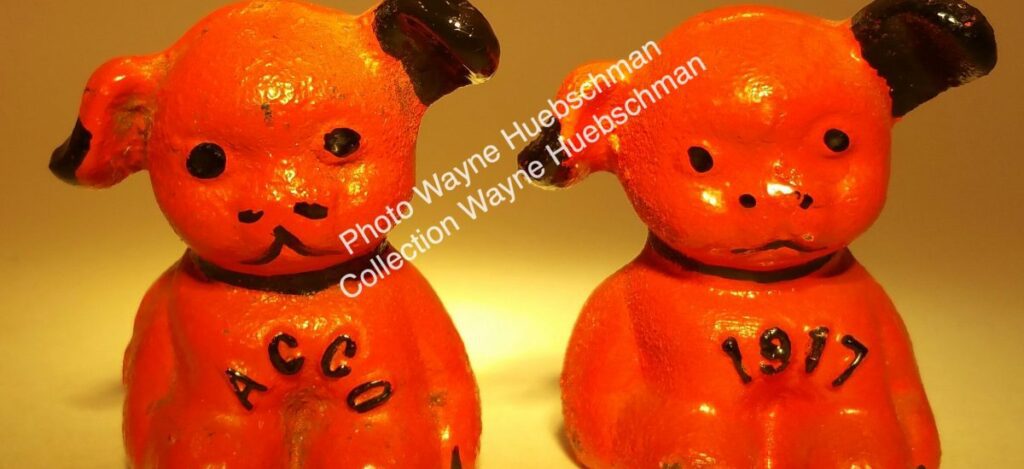 Hope you find this information helpful, Jennifer. I learned a lot, too! Many thanks to Wayne Huebschman for sharing all of the information and photos!
Note: Originally posted 2018. Modified and re-posted 2023.