Claudia wrote to me via the contact Mary form, asking if she got a decent price on a vintage Griswold cast iron mailbox.
Claudia is from Fellsmere Florida. She asked:
"I just bought a No.1 mailbox with 380, 381 and 382 on it with a shingled top on it for $30 and can't find any information on it. Did I get taken on it?"
I said "no," and asked her to send me photos. She sent me these three photos: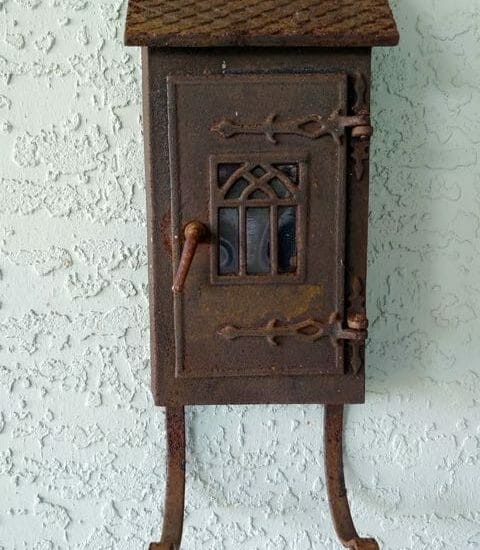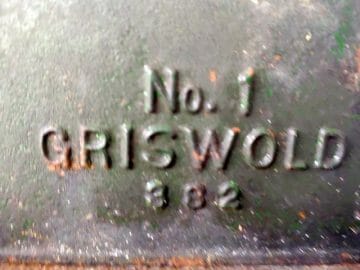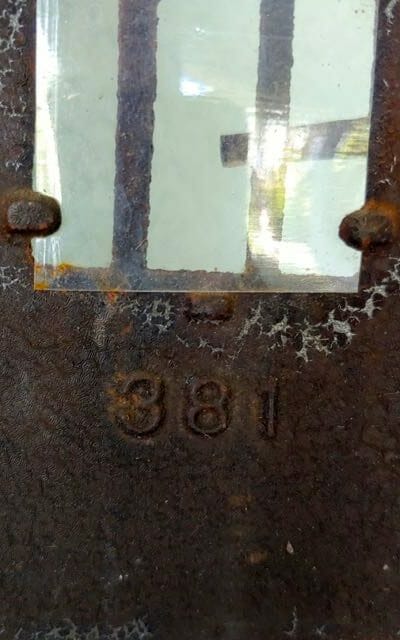 What is it?
This is an authentic Griswold no. 1 cast iron mailbox, pattern numbers 381 (door) and 382 (lid). It was manufactured by the Griswold Manufacturing Company in Erie, PA in the 1930s. You can see photos of it in the Blue book on page 180 (5th ed). The mailbox was offered in both black and black with a green lid, according to the Blue book.
What is the value?
The value of this Griswold cast iron mailbox is set at $150 – $200 in the Blue book. The Blue book was initially published in 1995, before the advent of internet sales on eBay and the like. It was harder to find pieces (most of them, anyway) than it is now.
Look at "sold" eBay listings to find a more accurate reflection of the "value" of the piece. There, you can see what similar pieces have sold for in the past 90 days. I made a little vid tutorial on how to do that, and you can see it here.
One number-one Griswold cast iron mailbox has sold in the past 90 days. That mailbox appears to be in a similar condition to yours, although yours is rusted and the one that sold had a green patina. The one that sold also had an intact metal back; you did not send a photo of the back of your mailbox so I do not know the condition of the back.
In any event, the mailbox that sold was listed as a "Buy it Now" for $99.95 + $18.61 shipping. It did not sell at that price; a "best offer" was accepted. Because the best offer was accepted, we do not know the actual selling price of the piece; we just know it was less than $99.95.
When I did a google search for "Griswold mailbox 382", 13,500 results were returned. A quick look at the Google images for that search turns up several Griswold no. 1 cast iron mailboxes. When you look at those images, you can find additional information about their selling price and condition – give it a try.
Did you get "taken?" No, you did not. Enjoy your mailbox!