Jody M. of Whittier, North Carolina wrote to me and asked:
Can you tell me how rare a Griswold 2011 Cast Aluminum Skillet Slant Erie with wooden handle is?
I responded to Jody and asked her to please send me photos of the pan. Here are the two she sent (lightened and converted to black and white for clarity):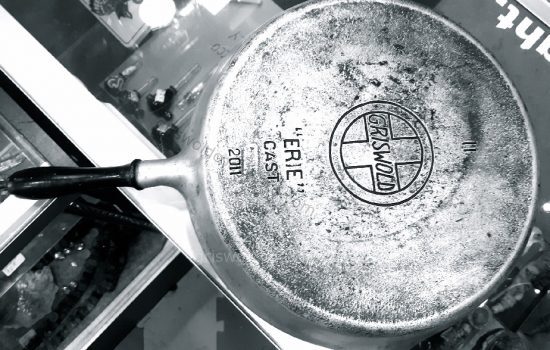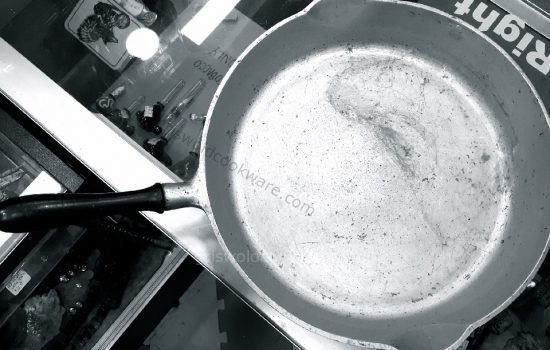 Use of the word "rare" as applied to vintage and antique cast iron finds
In my opinion, the word "rare" is overused by many folks when they talk about vintage and antique cast iron cookware. Collectors in the cast iron community probably have their own ways of quantifying the word "rare." Yes, I know that the dictionary defines rare more broadly – i.e. "seldom occurring or found." 1
Quibble with me all you want, but in the context of antique or vintage cast iron pieces, I use it in a narrower application. Otherwise, you could theoretically say that almost all vintage cast iron cookware pieces are "rare." Just look at how frequently the word is flung around on eBay! You can use the word however you want, but I very rarely (pun intended) use the word "rare" when referencing a piece unless it is a piece that is extremely hard to find in the cast iron world, and very scarce.
But I digress.
Jody's Vintage no. 11 Cast Aluminum Skillet with Wood Handle, PN 2011
Jody, your pan is commonly referred to as a Griswold no. 11 "slant logo" "ERIE" cast aluminum skillet with wood handle, pattern number 2011. A number 11 Griswold pan – whether cast iron or aluminum – is not common. It is even less so with a wood handle, and perhaps even less so in cast aluminum. I can tell you that it is certainly a collectible pan, and it looks to be in very nice condition.
I reached out to Larry O'Neil with your question about the scarcity of your pan, as cast aluminum is not my area of expertise. Larry and Marg O'Neil, of course, have the huge cast iron (and cast aluminum) museum on their farm property on the outskirts of Tacoma, Washington. They also have many pieces on display in their home, including beautiful cast aluminum skillets with wood handles such as the one shown in your photos.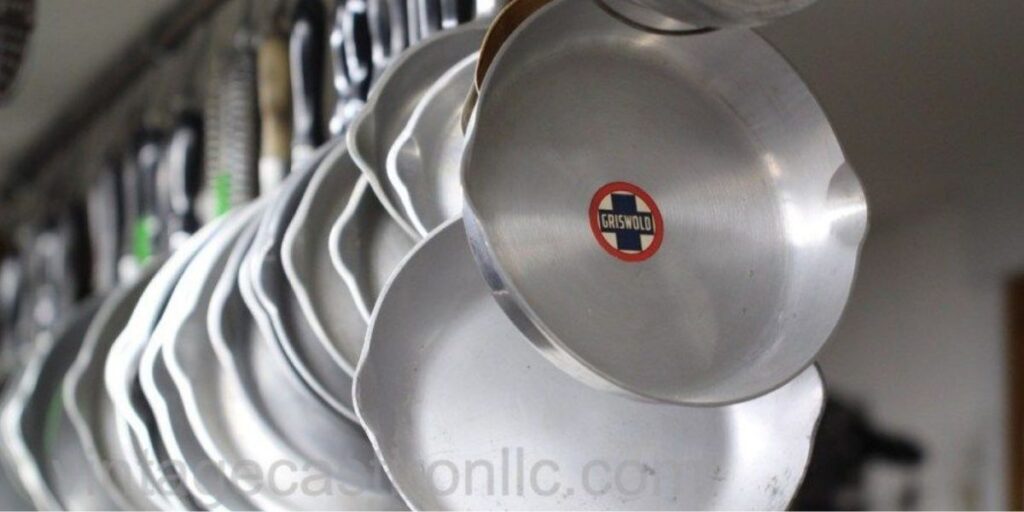 Larry confirmed that your piece is very hard to find. He also said that you do not often come across a number 11 wood-handled cast aluminum skillet in as fine condition as yours. Lucky you!
You might try a google images search or a search for sold listings on eBay to further track down the value of your pan if you are interested to know.
Readers, if any of you care to chime in further with solid information on Jody's question, feel free to comment below.
(originally posted July 2019).
Merriam Webster, online here.