from The Aunt Ellen Booklet on Waterless Cooking
…with 50 famous recipes from Aunt Ellen
Aunt Ellen recommended that her "Mexican Meat Roll" be served alongside Delmonico potatoes. I was making the meat roll, so…
Who am I to question Aunt Ellen?
Delmonico potatoes, it would be.
Here is Aunt Ellen's 1928 recipe in its entirety:

If nothing else, Aunt Ellen's recipe leaves all sorts of room for creativity!
Aunt Ellen's Delmonico Potatoes…
…as made by me, staying as true to the recipe as possible. I cut it way back, however, as I wanted to cook the dish in my Iron Mountain (by Griswold) no. 5 cast iron skillet. I also wanted a smaller serving. I also wanted a gluten-free dish, so I made those amendments.
Ingredients
2 russet potatoes, peeled and cut into 1/2″ – 3/4″ dice.
1 T butter
1 T tapioca flour (gluten-free)
1 c. milk
5 grinds salt, 5 grinds pepper.
About 1/2 t. Lawry's seasoned salt (more or less, to taste. You can always add more; you can't subtract). I was out of paprika, so did not add it, but it would have added nice color to the dish.
1 t freshly squeezed lemon juice
1/4 c. shredded swiss cheese, plus more for topping
Bread crumbs, optional. (I did not use it as I was making the dish gluten-free).
Directions
Bring about 8 cups of water to a boil. Add the diced potatoes. Boil for about 10 minutes. You want them to be slightly underdone; not mushy.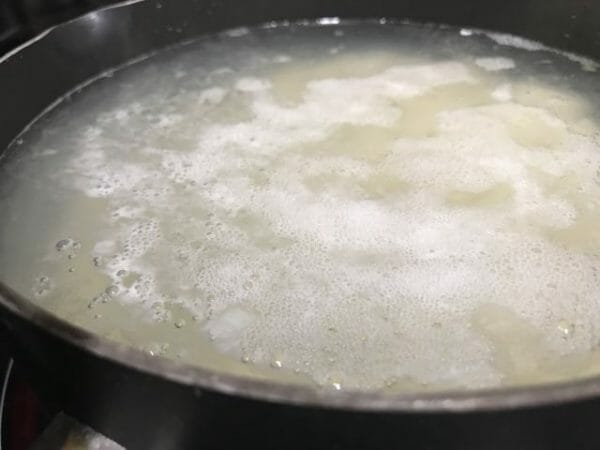 Drain the potatoes in a colander. Place into a bowl and refrigerate until the potatoes are cold. I refrigerated them overnight, along with the Mexican meat roll I was making alongside.
Preheat the oven to 350 degrees.
Melt the butter over medium heat in a small cast iron pan. I used my number 5 Iron Mountain (by Griswold) pan. Add the flour and whisk over heat, making a roux.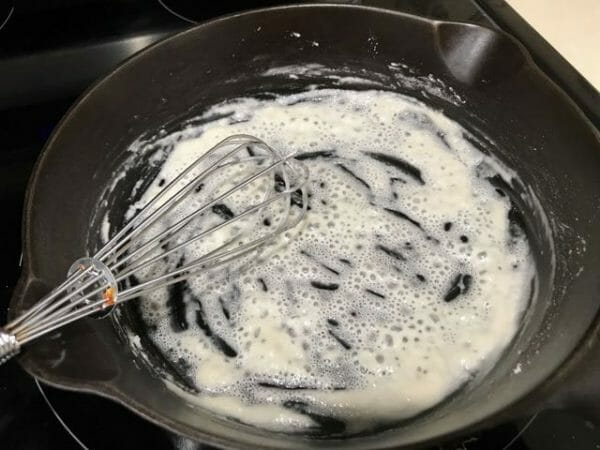 Slowly pour in the one cup milk while continuing to whisk. Continue cooking / whisking over medium heat until the mixture thickens.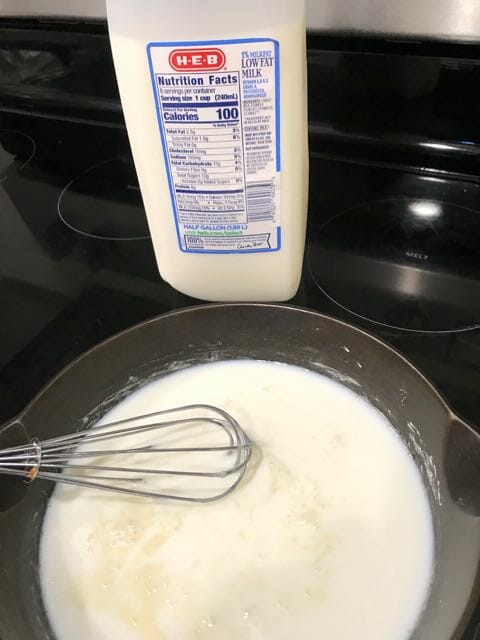 Remove from heat. Add the lemon juice and about 1/4 c of the shredded cheese. Add the potatoes and gently mix together.
Sprinkle additional cheese on top of the potatoes. If using bread crumbs (I'd recommend Panko), sprinkle the bread crumbs on top of the mixture in the pan. I also added additional seasoned salt.
Place the pan into the preheated oven. Cook until the breadcrumbs begin to turn golden brown, the cheese melts, and the edges of the potato turn golden. I checked them every 10 minutes and ended up cooking them for about 40 minutes. Had the potatoes not been cold, the time would likely have been shorter.
Remove from oven. Let rest for about 5 minutes, then serve. You can serve directly from the skillet at the table – it makes a pretty presentation.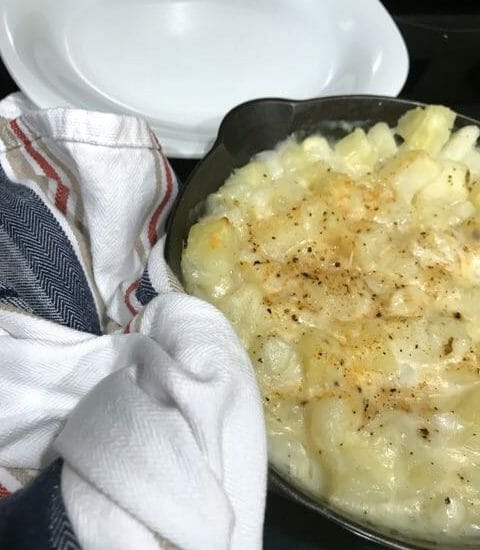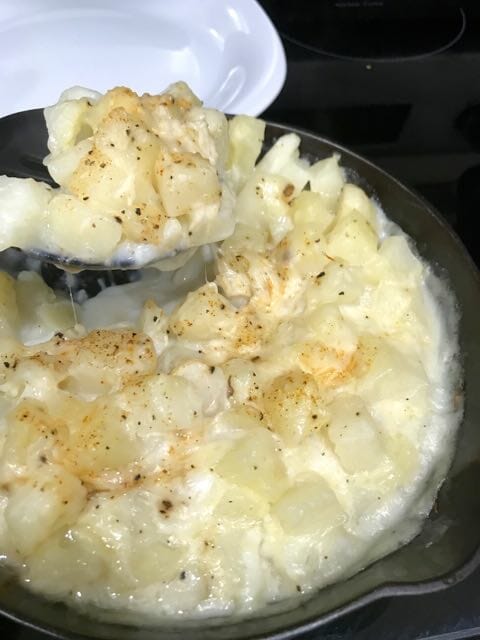 Review
I thought the potatoes were very good. I am not one to enjoy loads of cheese (I actually am happy when my pizza has no cheese or just a tiny bit of parmesan), and these potatoes were a bit cheesy for my taste. If you like swiss cheese, however (or whatever cheese you use), you will enjoy these potatoes.
The seasoned salt added needed flavor. I ended up salting with the seasoned salt a bit more at the table. Bread crumbs would add welcome texture.
Nice job, Aunt Ellen!