from "The Aunt Ellen Book on Waterless Cooking"
…with 50 famous recipes by Aunt Ellen (1928)
As part of my deep dive into all things "Aunt Ellen" related, I resolved to make some of her original recipes with my Griswold cast iron cookware. Given my current limited food palate (gluten-free, no shellfish or fish and a mishmash of other foods I won't eat), it was a challenge.
Nevertheless, I persisted.
"Mexican Meat Roll with Baked Bananas"
The first recipe I tried from the booklet was Aunt Ellen's "Mexican Meat Roll with Baked Bananas." Why is it deemed "Mexican?" I don't know. Why called a meat "roll" instead of a loaf? Again, I don't know. Perhaps to make it sound fancier?
Here are Aunt Ellen's instructions in their entirety.
My Version
I immediately nixed the salt pork (way too fatty and repulsive-looking) and veal (I don't eat veal). That left me with ground beef.
I didn't want to make a huge "roll," so I decided I'd muster forth with just a pound of ground beef, as that was the smallest size available at the local grocery store.
Ingredients
1 lb 93% lean ground beef
1/2 green pepper, rinsed, white membranes and seeds removed, diced
2 T grated onion (I love onion and would have liked to have added more, but I was trying to stay primarily true to the recipe)
1/3 c (about) torn soft white gluten-free bread
1 large egg
Scant 1 T melted butter
5 grinds salt
5 grinds pepper
1 T Worcestershire sauce (added just because I thought it would need some flavor from somewhere)
1 peeled banana, sliced lengthwise
3-4 slices bacon
Directions
Preheat oven to 350 degrees
Place the green pepper, onion, bread, egg, butter, salt, pepper, and Worchester sauce into a medium bowl and mix together with your clean hands.
Add the ground beef to the bowl and gently mix with the other ingredients. Do not overmix or the meatloaf will become dense and heavy. It will be heavy enough as it is!
Form the mixture into a loaf and place it into an ungreased cast iron skillet that allows for at least 1″ around the loaf. I used a number 8 Griswold large block logo EPU smooth-bottom skillet. Note: Aunt Ellen suggested greasing the skillet; I figured it was unnecessary given the amount of fat in this recipe.
Place the skillet into the oven. Set timer for 45 minutes.
At 45 minutes, remove the skillet from the oven. Add the banana, cut side down, around the meatloaf. Note: at this point, I had to take a break from cooking. I pulled the meatloaf from the oven, let it cool, then placed it in the refrigerator (covered) overnight. I pulled it out and let it heat back to 350 degrees before I continued with the recipe.
If you are making Aunt Ellen's Delmonico Potatoes, which she recommends serving alongside this "meat roll," place the potatoes in the oven when you place the meatloaf and bananas back into the oven.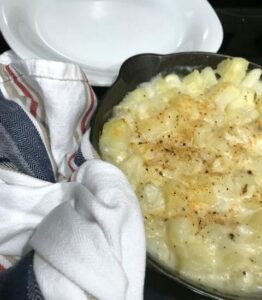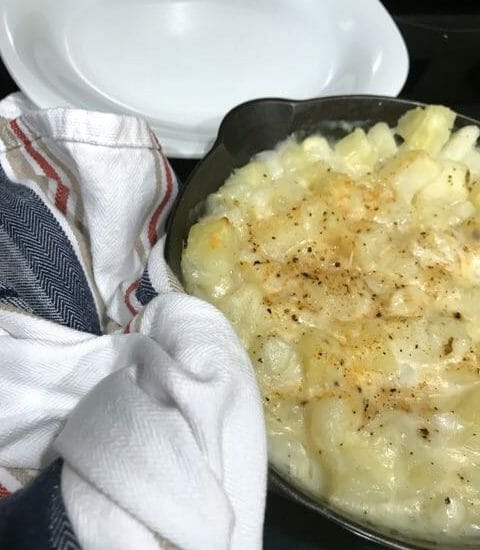 Place the slices of bacon atop the meatloaf, covering it completely.
Place the skillet back into the oven. Check every 10 minutes, until the bacon is done to your liking. For me, I ended up cooking it for another 40 minutes. I don't like uncooked bacon.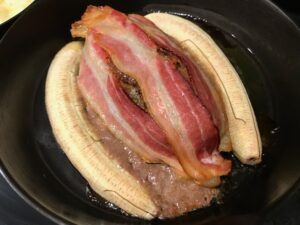 Next?
Remove the meatloaf from the oven and let rest for 5 – 10 minutes.
Slice the desired amount of meat roll and bacon and place it on a plate along with a piece of the baked banana. The Delmonico potatoes are the accompaniment that Aunt Ellen suggests; I might have suggested a green salad.
Eat and … enjoy.
Review
The bananas were surprisingly tasty. Not enough that I would make them again, but I was prepared to hate them and I didn't. I ate half of a banana slice. While the underside of the banana looked repugnant, the bacon grease permeated the banana and actually lent a nice flavor.
I had tasted the meatloaf before placing the bacon on top of it. It was dry and bland. Once the bacon was cooked on top of the meatloaf, it was actually pretty tasty. This coming from a person who doesn't love green peppers. I didn't love the meatloaf, but I was prepared to actively dislike it, and I didn't. I will eat the leftovers.
If I made the meatloaf again, I would add more onion, oats or crushed gluten-free crackers in place of the bread crumbs, 2 eggs, and perhaps some tomato juice or ketchup. More salt and pepper would also be welcomed.
I did like the bacon taste on top of the meatloaf, so would try that again but for my disdain at eating loads of saturated fat. I suppose that is why bacon is so tasty! The bacon added much-needed flavor to the meatloaf.