SPOTTING A GRISWOLD REPRODUCTION
By Doris Mosier
I'd be the first to admit I've been fooled a few times and purchased reproductions in my quest to add to my growing collection of vintage cast iron cookware, especially when I was a new collector. Now that I know better, I use reproductions I've bought to show people what NOT to buy.
Specializing in the best, I collect Griswold cast iron cookware, made between 1880 and 1957. The earliest of the cookware was named ERIE for its city of manufacture and the ERIE iron remains among the finest of Griswold's foundry products.
One Griswold item especially difficult to locate is the ERIE #5 skillet, made only in 1907, and in very low production. One in good condition is valued in the $650-$700 price range. A reproduction is valued at $5 or less.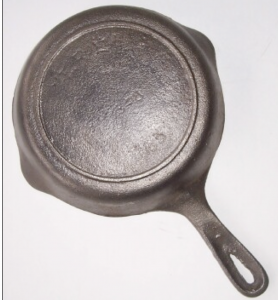 A collector who saw this at a flea market would think he/she'd made a great find, especially if priced at $75, $100, or possibly even $650.
Learn to look at the tell-tale signs of a reproduction: poor casting, faint markings, orange rust, and heavy feel.

POOR CASTING; FAINT MARKINGS; BRIGHT ORANGE RUST—TIP OFF SIGNS OF A REPRODUCTION. If you have any misgivings, don't waste your money.
Of course, if you had a good item with you, you'd immediately see the difference, but let's face it, if you're looking for a difficult-to-obtain collector's item, you won't likely have a duplicate with you.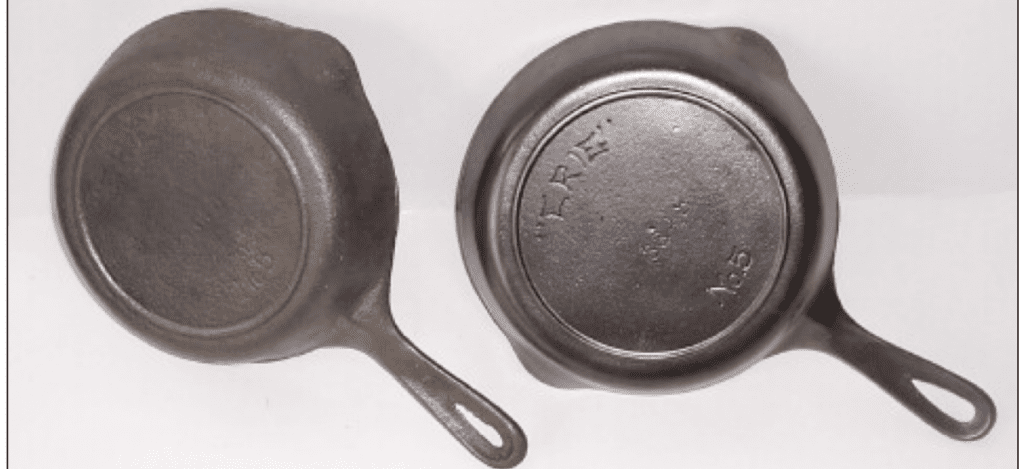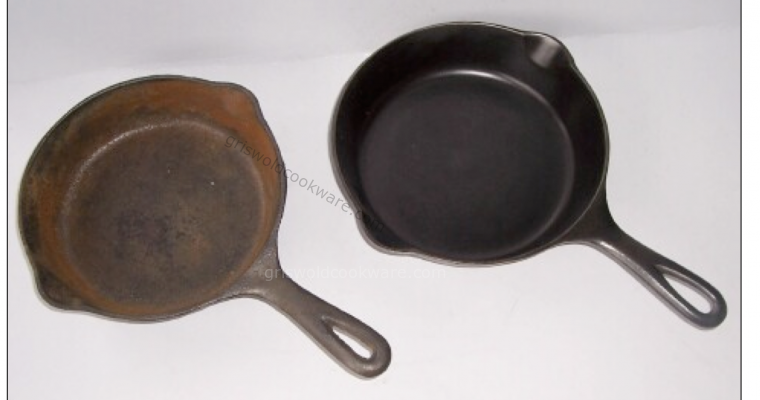 One thing that happens when a foundry uses a good item to make a reproduction1 is what we call "shrinkage". A new skillet made from a good skillet as a pattern (mold) will shrink a bit in the process. The new skillet also tends to weigh more.
After a while, an expert learns the heft and style, almost at a glance. To show "shrinkage", I've placed the fake 5 "ERIE" skillet on top of the good 5 "ERIE" skillet. The fake (recast) is slightly smaller but heavier. Knowing the difference, you could not be proud of this fake one.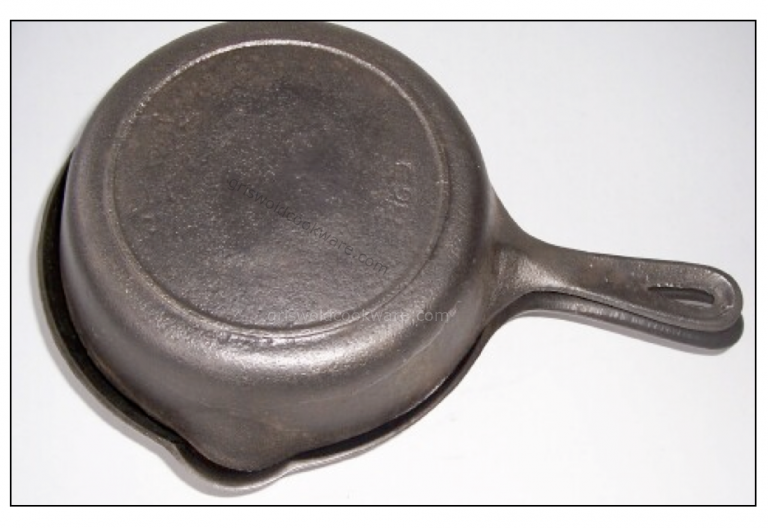 Reproductions abound when people collect. There are always people out there ready to take your money, even fraudulently. Any good collector's organization tries to educate its members so costly mistakes don't happen to them.
At the Griswold & Cast Iron Cookware Association, we pride ourselves in providing information about reproductions in several ways.  Our club's website has listings of known reproductions, pictures, and pertinent information for any to access.2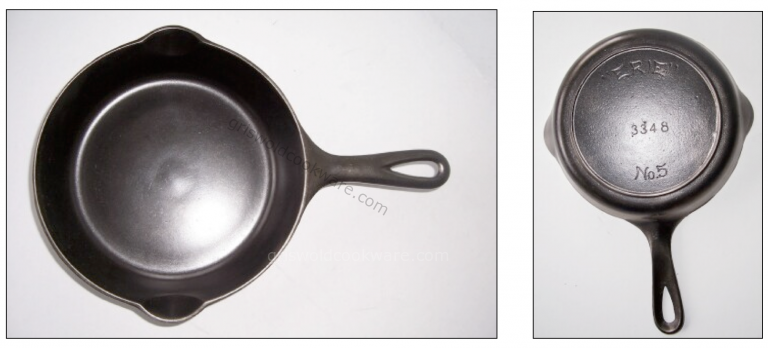 Note: This post was written by collector Doris Mosier some years back when she ran the site at griswoldcookware.com from the 1990s until around 2018.
Note by Mary: a "recast" is when an actual item – here a Griswold "ERIE" number 5 pan – is used as a pattern to make another item. You can read a more complete description here.
The website is currently down. The WAGS group, however, does have a repro page, as does the cast iron collector website.