I needed a recipe for a gluten-free green bean casserole that I could make in my vintage Griswold cast iron skillet. Mine must be the only family on the planet that does not already have green been casserole as part of their Thanksgiving day lineup. I decided that this Thanksgiving, I'd add it to the menu.
Southern Cast Iron magazine has a killer recipe for skillet green bean casserole. A family member has celiac's disease, so I needed to alter the recipe just a tad to make it gluten-free. I also wanted to prep as much the day before serving, so I had less to worry about on the big day.
This gluten-free green bean casserole – that I made in my vintage Griswold cast iron skillet – was a huge hit. Even people who did not like beans liked it! I doubled the recipe from the magazine, and made the entire thing in my Griswold Iron Mountain no. 9 cast iron skillet.
1
Here's how I made it!
Gluten Free Cast Iron Skillet Green Been Casserole
Serves 8 or more hungry adults.
Ingredients
1 t. salt, divided
1 c unsalted butter
16 oz. sliced white mushrooms
1 med. onion, thinly sliced
2 cloves garlic, minced
1/2 c. King Arthur gluten-free flour
1-1/2 c. gluten-free chicken broth
1 c. half-and-half
Scant 1/2 t. freshly-grated nutmeg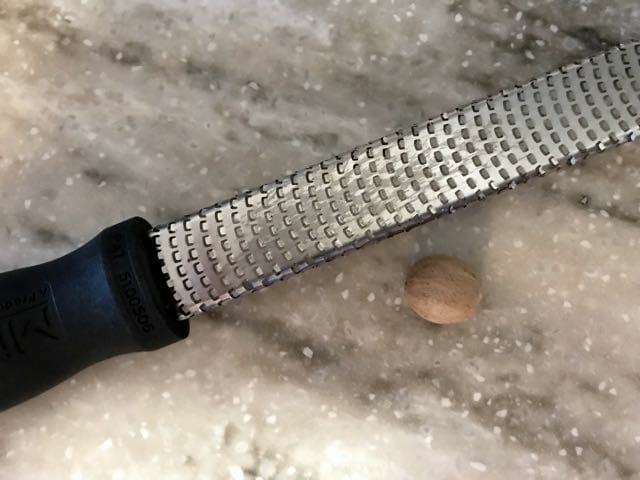 About 25 cranks of freshly-ground black pepper (~1 t.)
1 c. freshly-grated Parmesan cheese
1 c. gluten-free French fried onions. *I used a can of the 365 brand from Whole Foods. There are other gluten-free brands available on the web, like this one.
Directions
Note: I prepped the green beans (steps 1-4) the day before I needed them. I kept them in the refrigerator in a plastic bag with a folded damp paper towel inside until I was ready to put together the casserole. It worked great.
Fill a large saucepan with water – enough to cover the beans. Add about 1/2 t. salt. Bring to boil.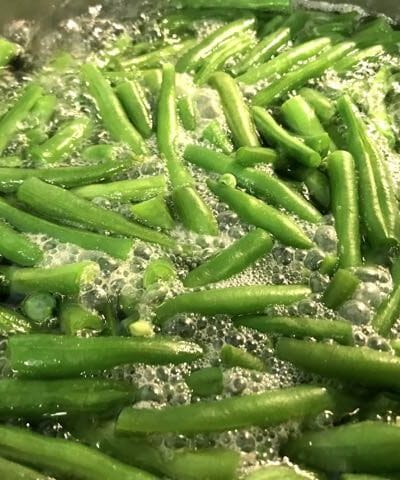 Once boiling, add the trimmed green beans. Boil for about 5 minutes, or until just crisp-tender (I hate soggy beans!)
Drain the beans and immediately plunge them into a large bowl filled with ice water. This stops the cooking and will help the beans retain their bright green color.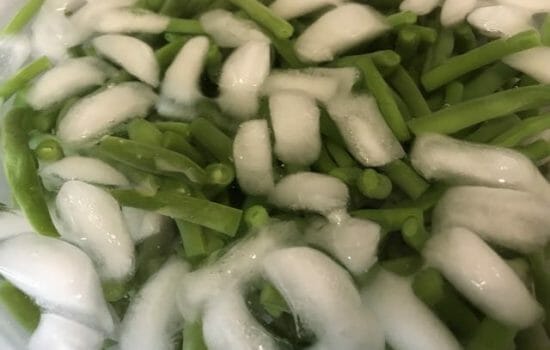 Once the beans have cooled, remove them from the water and place in an open plastic bag along with a damp paper towel. Refrigerate until ready to put the casserole together.
Once you are ready to put the casserole together, preheat the oven to 350°.
Melt the butter over medium heat in a larger (I used a size 9, which is around 11″ in diameter) cast iron skillet. Add the mushrooms, onion, and garlic; cook until tender.
Remove the mushroom mixture from the pan and set aside.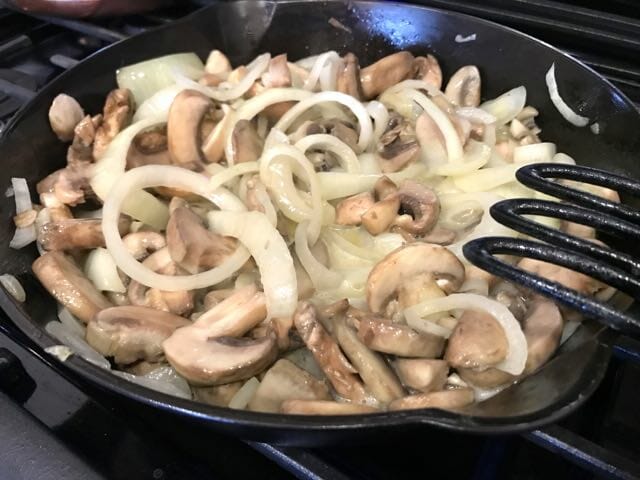 Add gluten-free flour to the skillet and cook until bubbly. Stir in broth; cook for 1 minute. Add half-and-half; cook until thickened. I used my jumbo Fiskie (fork + whisk) to make the recipe. It works great – especially when mixing together liquid ingredients, as here.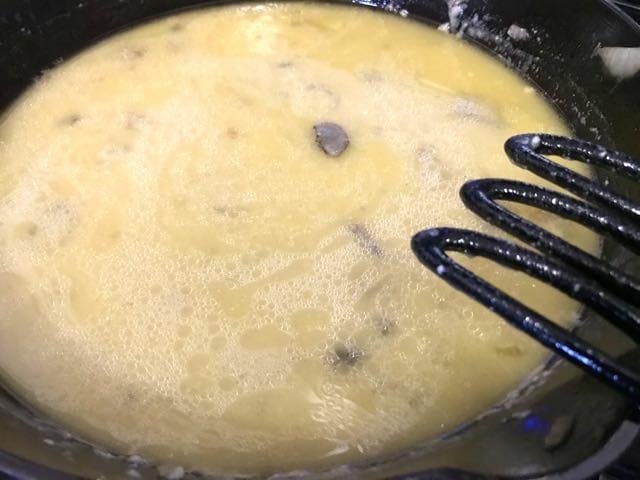 Stir in nutmeg, pepper, beans, mushroom mixture, and remaining ½ teaspoon salt. Pour mixture into a 9-inch cast-iron skillet. Top with Parmesan and french-fried onions.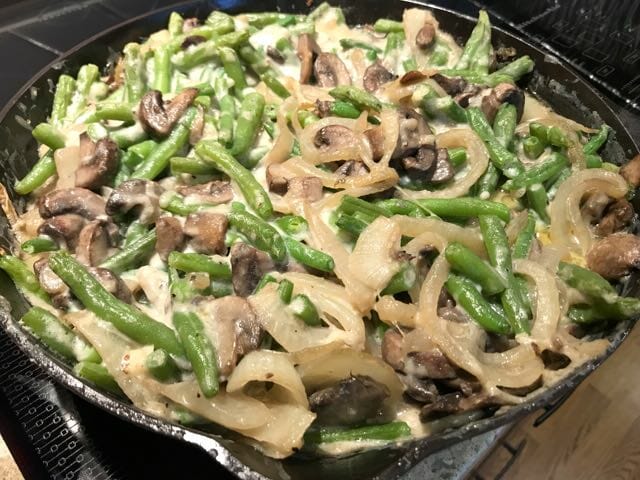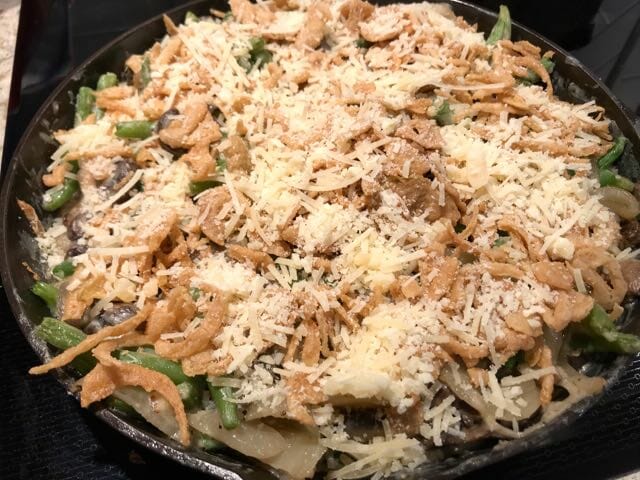 Bake until bubbly, about 15 minutes.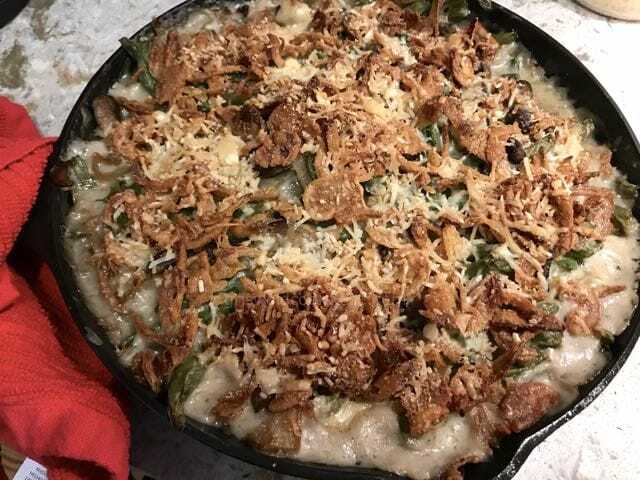 Our Thanksgiving dinner was served buffet style. I placed my vintage Griswold cast iron skillet on a trivet and served the green bean casserole right from the pan. It made a beautiful presentation and the skillet – being cast iron and retaining heat well – kept the beans warm.
I meant to get a shot of the beans on someone's plate, but it was gone before you know it!
(originally posted December 10, 2018).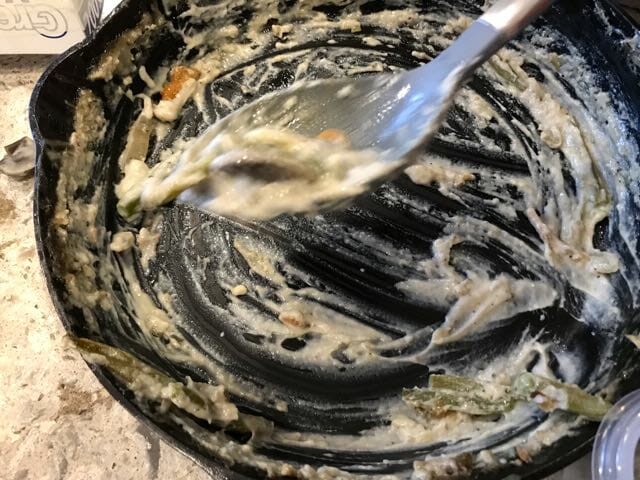 A similar-sized skillet to mine would be this Lodge cast iron skillet. If you were making a single recipe (i.e. 1 lb of green beans), an 8″ skillet, like this one, would work well.